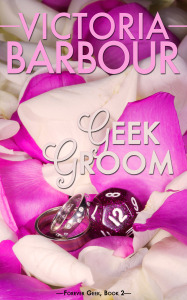 Hello my lovelies! This week's FOX is author Victoria Barbour. Victoria is revealing the sparkly cover for her upcoming release, GEEK GROOM.
So pretty!
Normally, we like to share a blurb, excerpt or synopsis, but Victoria had something different in mind. She wants to share some of her favourite quotes from the book. Let's see what she chose!
---
"Sometimes falling in love is just the beginning of the romance."
~
When I was a little girl there were a lot of things I imagined I'd be doing in the months leading up to my wedding. Going for a mani-pedi. Check. Trying on a million gowns. Check. Choosing a china pattern. Check. Groping the hairy legs of what I hope are men while trying to determine which one is my clearly up-for-anything groom. Nope. That was most certainly not on the list. 
 ~
"My love, your family would have to be pretty bad to stop me from wanting to spend the rest of my life with you. Like, lich-king bad. Demon-spawn bad. And even then, I could be swayed to the dark side because you're a pretty fine temptress."
 ~
I know girls. I know all too well that feeling that hits you in the stomach the first time you lay eyes on him. It doesn't go away. Sometimes he'll be putting milk in the fridge and I'll look at the way his shirt pulls taut across his back. It's swoon-worthy. But nothing, not his arms, his face, his hair—not even his ass—is as remarkable as the man he is inside. And he's all mine.
---
I don't know about you, but I can't wait to read this! Book one in the Forever Geek trilogy, GEEK GOD is available now on Amazon. GEEK GROOM will be out at the end of the month. Congrats Vicki!
Victoria Barbour lives on the island of Newfoundland, and is fiercely proud of her home. She can
imagine no better setting for her works, and hopes that her readers will one day come to witness Newfoundland and Labrador's rustic beauty for themselves.
She was born in St. John's, and raised above her family's fish and chips restaurant. She has traveled and lived in other parts of Canada, but chose to make her home where her heart has long resided. Victoria has a degree in History from Memorial University of Newfoundland, with a minor in Newfoundland Studies. The only thing that stands between her and a Master's degree in History from Simon Fraser University in British Columbia is her thesis. She has a background in broadcast journalism, advertising, and marketing. She is a proud member of several writing organizations including the Romance Writers of America (RWA)  their affiliate chapter, Romance Writers of Atlantic Canada (RWAC), and the Writers' Alliance of Newfoundland and Labrador (WANL). She's also thrilled to be considered a Scribe Wench, and a part of Romance Writers Weekly.
Victoria counts herself lucky to be surrounded by an incredibly supportive family, and thanks her husband daily for his unerring faith in her, and for being a wonderful father to their energetic but always entertaining son.
You can find Victoria on Facebook, Twitter and on her Website.