Today I'm hosting the the fabulous J. R. Richardson! Her intriguing and haunting romance, Cursed be the Wicked, was released in paperback this month.  In celebration, she's holding a giveaway on Goodreads for a chance to win 1 of 3 signed copies – now through the end of December.
Here's a bit about the book:
When Cooper Shaw is sent back to his home town of Salem, Massachusetts to cover their famous Festival of the Dead, he's determined to avoid the ghosts from his past. Finnley Pierce is the curiously insightful woman he meets along the way who's going to help him face those ghosts, whether he likes it or not.
Here's a little about Jo!
A movie fanatic, a writer of stories, a lover of life.
Jo grew up in Maryland with four siblings, three parents and an endless number of cousins within the vicinity – but it was too cold up North for this thin blooded girl. So today, she lives in Florida with her two girls and a husband that shares her same sense of humor and basic take on life as we know it.
Life is too short to put dreams on the back burner.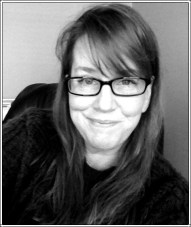 She's always loved writing and always will.  Jo tells contemporary stories with romance, humor, the supernatural, the paranormal, suspense, mystery, action and anything else she can think up.
In 2012, she wrote Cursed be the Wicked, a character driven, paranormal mystery romance that was picked up by Soul Mate Publishing and released in March of 2014. It hit #40 in its category on amazon.com on day one. Since publishing Cursed, Jo has also written a couple of short stories and is currently editing a romantic comedy that she hopes to get out to the public soon.