Welcome to another installment of Romance Writer's Weekly. If you just hopped here from Victoria Barbour's page, welcome! Have you checked out her latest, Geek Groom? If not, get on it.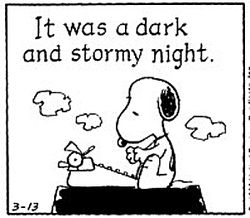 This week, Sarah Hegger is interested in great beginnings. Aren't we all? "A great opening line draws the reader in, makes them want to know more and compels them to read further. Share a great opening line, can be a classic or a more recent novel, tell us why you like it and then share the opening line to your newest WIP."
Sure thing, Sarah!
I racked my brain trying to think of favourite opening lines and I couldn't recall any. Not one. Strange, right? There have to be openings that sucked me into a story. I must have written at least one, right? Maybe?
Sarah threw me for a loop with this one, because I know that openings are important for a story. If you can grab someone with a snappy beginning, chances are they'll stick around. I'd been grabbed myself. Often.
"It was the best of times, it was the worst of times…" and all that.

So what do I consider a great opening line? I had to go look through my collection of favourites. I found that, sometimes, an opening could be so good that I'm afraid to read further. Such is the case with Their Eyes Were Watching God by Zora Neale Hurston
"Ships at a distance have every man's wish on board." 
I mean, wow. Right? This one has been on my TBR list for a long, long time because of that line. I really want to bump it up to the top but I know it will be a book that takes a chunk out of me. Here's an opening from something I've actually read, lol.
"If you really want to hear about it, the first thing you'll probably want to know is where I was born, and what my lousy childhood was like, and how my parents were occupied and all before they had me, and all that David Copperfield kind of crap, but I don't feel like going into it, if you want to know the truth." The Catcher in the Rye by J. D. Salinger
Why do I love this opening? It clearly establishes Holden's voice and guides my expectations. It's a loooooong sentence, but that's what I like about it. It's very natural and conversational, if not a little confrontational. Anyway, we all read this book in middle school so let's see if I can find an example from this century.
"Clare: It's hard being left behind. I wait for Henry, not knowing where he is, wondering if he's okay. It's hard to be the one who stays." The Time Travellers Wife by Audrey Niffenegger
It's not the opening line that grabbed me, but the third. It's hard to be the one who stays. Stays where? What does she mean? There's so much love, pain and longing in those few words. I sailed through that book in less than two days because of that line. I needed to know Clare and Henry's story!
As for romance, I've come across a few beginnings that have floored me and made me want to capture that feeling in my own writing, like Playing the Part by Robin Covington.
"Dammit. She was late. Piper James mentally bitch-slapped her inner whiner, who persisted in spouting out monologues of melodrama. She needed to haul up her Teflon-coated big girl panties and focus on executing the here and now."
Again with the voice. The voice! After that opening, Piper was in my head. I happily followed her to the end of her journey because I immediately felt like I knew her. Hell, I had been her.
Okay, one more. This one is from a book I finished reading just last week, Unexpected Eden by Rhenna Morgan.
"Slow breaths in, slow breaths out. All Lexi had to do was focus on the thump of Rihanna's latest hit, keep the drinks flowing, and stick to her half of the bar. The mother lode of testosterone on Jerry's side couldn't sit there all night. Could he?"
That paragraph has everything: Lexi's voice, the chaos of the club she works in, and the edginess she feels from the presence of someone sitting at the bar. Someone she is drawn to, despite her misgivings. I don't want to spoil the plot, so just Read. This. Book.
What about your opening lines, Xio?
So nice of you to ask! This is from a work-in-progress called Diamonds and Pearls:
"As far as strip clubs went, this one wasn't a complete armpit. At least the woman currently gyrating on the poorly lit stage had shaved hers. Sometimes, it's the little things."
Yay? Nay? You tell me.
And finally, this is the opening of my first release, The Calum:
"Lovie Grant wished like hell that she had paid the five dollars for the airline headphones. But that balloon had popped, and now she was stuck listening – again – to Joana's latest "brilliant" plan. She hunched her shoulders and buried her face in the in-flight magazine. Anything to avoid one more word about their freaking trip."
Do either of those beginnings make my books un-put-down-able? I sure hope so. What are you favourite opening lines? Let's hop over to Sarah Hegger's blog and see what grabbed her attention. By the way, I can't wait until her new novel Nobody's Angel comes out. I know everyone will love it as much as I do. She hooks you from the beginning.
See you next week!