Welcome to a special edition of FoX Friday! Today, I'm joined by the wonderful voice behind the Falling Stars audio book, David Otey.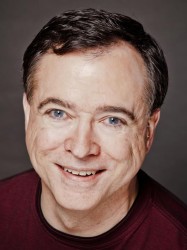 Originally from Texas, David is an award-winning motivational speaker and trainer. With a background that encompasses business, technology, broadcasting, non-profit organizations, music, and theatrical performance.  Basically, he does a little bit of everything!
As soon as I heard David read a scene from Falling Stars, I knew I had to engage him to bring Sam and Val's story to life.
As a special treat, I'm giving away five download codes for Falling Stars. All you have to do is comment below. First come, first served! Now let's get to know the man behind the voice.
Welcome, David! Tell us, when did you first get into narration?
I started recording audiobooks last year; I had done about a dozen before Falling Stars.
Ah! So this was lucky number thirteen. 🙂 Did you train for it?
Not specifically, although I'm a firm believer that every experience you have in life is training you for something. The skillset that has helped me most in narration is what I picked up many years ago in three years of oral interp (interpretation of literature) in high school. For example, it helps me to recognize immediately those important transitions between narration, description, explication, and dialogue. I also had some drama courses in college, including voice and diction, which helped.
What genre do you enjoy narrating the most?
I'm not sure I've tried enough yet to say. Prior to Falling Stars, I had mostly done nonfiction – which can be easier (since there's no characters involved) but only if the book has been edited well! So far, Falling Stars is my favorite project because it is so well-written.
Wow, thank you! Very sweet of you to say that. Have you ever been contracted to read something that you disliked? (No need for specifics. 😉 )
I've read a couple of how-to books that made me wonder how much use someone could make of them in audio form. Mostly, what I dislike is books that have been rushed to market without the benefit of good editing. There's nothing like having to read an entire book out loud to turn up all the errors someone else missed, and when they trip me up and cost me time in editing, I don't like that.
*hiding* I hope I never put you through that. If I do, you have permission to yell at me. LOL
Describe your typical work day.
I can't say I have a typical workday, since I juggle a number of different things as a self-employed professional. When I'm presenting seminars, my workday starts with setup at 7:00 AM, and travel days may start much earlier. Otherwise, I try to be in my office or my recording studio by 9:00, depending on the day's agenda. On recording days, I'm likely to record several auditions to limber up before launching into whatever book I'm working on. By midafternoon, I usually switch from recording to post-production work (editing and encoding) to give my voice a rest. I've been known to work well into the evening if I've got a lot to do and don't have rehearsals or other obligations.
Have you ever surprised yourself during the course of a performance?
Sometimes – and this happened during Falling Stars – I'll get into "flow" mode and surprise myself with how much I get recorded without interruption. I also surprised myself with how much I got caught up in the story of Sam and Valerie!
That is the BEST compliment, wow! How much am I paying you today for all of these kind words? 😉
Do you perform in any other way? Acting? Singing? Breakdancing?
I act in local theater productions, a hobby of mine for the past dozen or more years. Much of what I've learned about being a stage actor carries over into my narration work. I also sing with our local symphony chorus and occasionally with a comedic cabaret group. And I'm a big advocate of Toastmasters, something I've been doing for about 10 years. I've won some speech contests and received a lot of positive encouragement there for my other activities.
That's fantastic, and not at all surprising. You really have a talent. Describe your dream project.
One of my goals for this year is getting a book written, and of course I'll want to record the audio book as well. My dream is to see that help me take my other businesses to the next level.
Best of luck with that! If I can assist, you know how to reach me.
Here's a fun question. If you were a cheese, what kind of cheese would you be and why?
Merlot-infused sharp cheddar, because it's complex and goes well with wine. Like me!
Haha! Nice. So what's next for you?
I have several projects in the development stage, and of course I'm looking forward to recording Starlight!
Well, I am really looking forward to hearing what you do with it. Starlight is very different from Falling Stars, I think, in that the drama is ratcheted up quite a bit. Thanks for hanging out today. Have fun!