It's FoX Friday and we have a brand new FoX this week. Please welcome Jessica Cale! Jessica is here with her upcoming release, The Long Way Home, out 29 February.
"Really brilliant writing that's so engaging with such endearing characters! I especially love the way Jack and Alice are both so devoted to each other! I was totally absorbed in this exciting and fascinating world Jessica Cale created from the very first paragraph to the last! I read this all in one sitting, staying awake late to finish, just had to!" – Romazing Reader
Come meet Jessica!
Jessica Cale is the award-winning author of the historical romance series, The Southwark Saga. Originally from Minnesota, she lived in Wales for several years where she earned a BA in History and an MFA in Creative Writing while climbing castles and photographing mines for history magazines. She kidnapped ("married") her very own British prince (close enough) and is enjoying her happily ever after with him in North Carolina.
The Long Way Home is set in France, but your series is based in London. How did you end up there?
The idea of setting this in France started in Tyburn when we find out that sixteen-year-old Jack sells the highwaymen's loot on the Continent for Mark. I was intrigued by the idea that Jack was familiar with France and I wanted to explore that. I knew I wanted to write Alice and Jack's story next, but were still kids during the first two in 1671. By the time they would be adults around 1677, the Affair of the Poisons was just kicking off in the French court, and I couldn't resist.
What is your writing process like?
I get ideas at really inconvenient times and scribble them on Post-Its that I keep in my wallet. I write long stream-of-consciousness outlines that I ignore, and I write scenes out of order as they come to me, usually inspired by some song that hit me funny on the right day. I write everything on my little Chromebook, paste it all together in one long document, edit it in chunks, and read it over and over again and until I like it. When the first draft is done, I put it on my Nook, leave it a week, and read it like it's someone else's book to spot anything that still needs work. Once I'm happy, my husband reads it to fact-check my history (he's a historian specializing in this period), he always relates to it in a way I don't expect, and he makes fun of the love scenes. I edit it again with his notes and then I pass it to my beta readers for their thoughts, edit and rewrite based on their notes, read it once more and panic, then decide I can't judge it properly any more and send it to my publisher.
What, aside from writing, do you like to do best?
I love travel and photography. Most of my off time comes in short bursts, though, so I like to bake or go to the gym. I've gotten really into baking macarons over the last couple of years and I spend a lot of time trying to perfect them. They turn out most of the time now, but they're just contrary cookies. I like to invent new flavors, take photos of them, and then I forget they're in the fridge.
If you were to make French macarons for one of your characters who would enjoy it the most?
I would say Jack. He grew up very poor and he loves good food, but he's too shy to ask for it and he won't spend the money on himself.
What is your favorite fun fact you have learned in your research?
Peas! At the time I'm writing in the late 1670s, the whole French court was crazy for peas. Madame Maintenon mentions them in her letters and says the court is preoccupied with them – enjoying them or anticipating enjoying them again. The way she writes about them, you'd think she was talking about something a lot naughtier. They would actually have dishes of them left in their rooms to snack on in case they got hungry in the night. This is one of the strangest details in The Long Way Home, and it's true!
Sign up for Jessica's Newsletter. Look for her on her Website, Facebook, Twitter: @JessicaCale Pinterest, Amazon Author Page, Goodreads Author Page.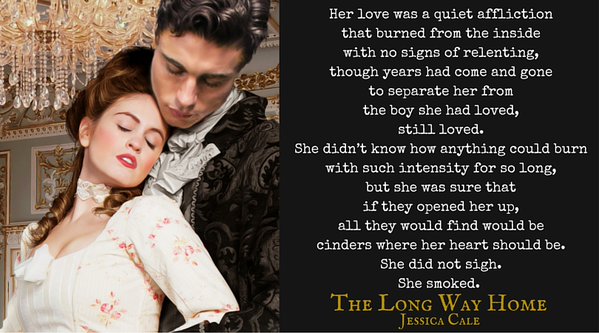 More about The Long Way Home…
A paranoid king, a poison plot, and hideous shoes…it's not easy being Cinderella.
After saving the life of the glamorous Marquise de Harfleur, painfully shy barmaid Alice Henshawe is employed as the lady's companion and whisked away to Versailles. There, she catches King Louis' eye and quickly becomes a court favorite as the muse for Charles Perrault's Cinderella. The palace appears to be heaven itself, but there is danger hidden beneath the façade and Alice soon finds herself thrust into a world of intrigue, murder, and Satanism at the heart of the French court.
Having left his apprenticeship to serve King Charles as a spy, Jack Sharpe is given a mission that may just kill him. In the midst of the Franco-Dutch war, he is to investigate rumors of a poison plot by posing as a courtier, but he has a mission of his own. His childhood friend Alice Henshawe is missing and he will stop at nothing to see her safe. When he finds her in the company of the very people he is meant to be investigating, Jack begins to wonder if the sweet girl he grew up with has a dark side.
When a careless lie finds them accidentally married, Alice and Jack must rely on one another to survive the intrigues of the court. As old affection gives way to new passion, suspicion lingers. Can they trust each other, or is the real danger closer than they suspect?
Add to Goodreads.
For a limited time, save 20% when you pre-order with Liquid Silver Books.
Find the rest of the series here.
You're Invited! RSVP to The Long Way Home Leap Year Ball to chat with your favorite authors and enter to win fabulous prizes all day Saturday, February 27th.
Enter Jessica's Kindle Fire Giveaway!