Hello my lovelies! I'm so thrilled to welcome my dear friend Grace Burrowes here as this week's FoX.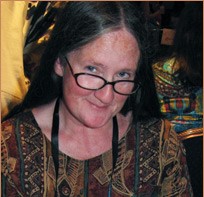 Grace is the NY Times and USA Today best-selling author of over fifty novels and novellas. She began writing as an antidote to empty nest and soon realized penning happily ever afters is a good antidote for life
She's written romances set in Georgian and Regency England, Victorian and contemporary Scotland, and the contemporary USA. She's a practicing child welfare attorney, and loves to hear from her readers.
She also a wonderful mentor for fledgling authors such as myself, not to mention a connoisseur of fine whiskies. Grace is here today with her latest release, Will's True Wish. And she's offering three signed copies. Enter now!
I asked Grace a few fun questions about her life as an author.
Name one way the publishing industry has changed since you released your first book?
Borders is gone…. But what's this we hear about several hundred new stores opening?
Right? I get giddy when I stumble upon an independent bookstore. I feel compelled to go inside. What is your ideal writing space?
My kitchen table, with two dogs at my feet, a cat in my lap draped over my left forearm (right hand is for mousing), and two more cats hogging the heated throw my mom sent me (ME, do I look like a cat?) at Christmas.
LOL! That's quite a menagerie. What would be the title of a movie about your life?
Be Kind, Tell the Truth
Love it, it's perfect. 🙂 How do you celebrate each book release?
By doing the emotional equivalent of walking into walls. In five years, I've had about forty release days, and they always, ALWAYS, catch me unaware. I'll play a solid hour of hearts, and then realize, "This isn't like me. This goes beyond a focusing ritual, Grace…." THEN I realize, "It's a release day." I can't get anything done, I'm anxious, I watch the rankings when I know that's pointless… the only thing I know to do to manage the fretfulness is open the WIP and get to work.
How do you balance writing with your personal life?
Not very well. I'm through the child-rearing decades, and the learning curve in the law office leveled off years ago, so I WALLOW in the writing. Love it, can't wait to get to it each day, resent interruptions bitterly. I have yet to get to the point where I'm tired of writing and just want to do a little socializing. I clear my writing buffers, and then I want to research, read, revise, rest… and get back to the writing. I'm also not very effective at balancing the life of the mind with the life of the body. I am FAR too good at sitting in a chair for hours at a time, and not nearly good enough at getting up and moving regularly.
I am so with you on that last point. I got a Fitbit just as a physical reminder to get up off my butt every hour or so. It works. Sometimes. So what can readers expect from you next?
More books! I'm working on a trio of Regency romances, have just finished a Scottish contemporary, and would like to add to my collection of Scottish contemporary novellas. I have a little novella coming out on March 15 in the Dukes in Disguise anthology, and I'm sharing a novella duet with Mary Balogh in May, Once Upon a Dream.
Exciting! Here's a little more about Will's True Wish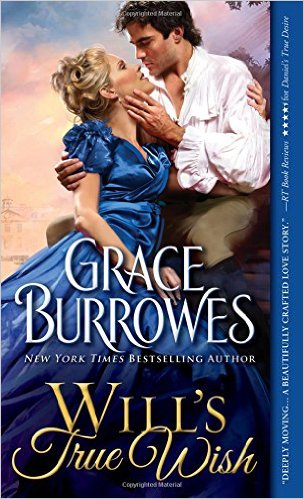 Will Dorning, as the Earl of Casriel's heir, guards his older brother's back and keeps a watchful eye on his rambunctious younger siblings, though Will's closest companions are the dogs he's treasured since boyhood. When aristocratic London is plagued by a series of dog-nappings, Will's brothers are convinced he's the only person who can save the stolen canines from an awful fate.
Shy, bookish Lady Susannah Haddonfield has no patience with loud, smelly beasts of any species, but must learn to present herself as a dog fancier, lest she offend her sister's only marital prospect. Susannah turns to Will, who has long admired her, but lacks the means to offer for her.  And yet, as they work together to recover the purloined pets, it's loyal, dashing Will who steals Susannah's heart.
Grace was lovely enough to share an excerpt with us. Enjoy!
Lady Susannah Haddonfield is meeting with Mr. Will Dorning in a secluded corner of Hyde Park to work on Susannah's skills as a dog fancier. Susannah is not that enamored of dogs, but her feelings for Mr. Dorning refuse to come to heel…
"We can conclude our session now if you've had enough for today," Will said. "Perhaps you're missing the Bard?"
The dogs panted gently, the rhododendrons were nearly in bloom, the squirrels were jabbering and leaping overhead. Shakespeare would be waiting for Susannah, even when Will Dorning was immured in the Dorset countryside, teaching another young collie, "Away to me," and "come by."
Even when Susannah had read through all of dreary Milton and silly Sheridan.
"I'm happy to toss a few sticks," Susannah said, "though I'm sure you have other places to be, Will Dorning."
Will ceased casually tugging on Sampson's ears and Susannah's sanity. "There is no place I'd rather be, Lady Susannah, nobody I'd rather while away the morning with, and fetch is a reward for the dogs. They enjoy it, and so do I."
Will's hat sat on the bench along with a bag that held extra treats and Susannah knew not what else. The same breeze that snatched away errant kites tousled Will's hair, and the same affection he frequently turned on his dogs laced his voice.
Susannah pretended to survey the nearby hedgerow rather than try to fathom what she saw in Will's lovely eyes.
"Shall we find the very best sticks in the entire park, Mr. Dorning?" She marched over to the bracken beneath the rhododendrons, Georgette panting at her side.
Will even had requirements for a fetch stick. Sturdy, not too heavy, still a bit green, not enough long to cause difficulty for the dogs. Susannah nudged a toe through last year's leaves beneath the ferns and bracken, pretending to look for a stick when she was instead trying to gather her wits.
Why must Will Dorning be poor and honorable? Why must he be devoted to his younger siblings at the expense of his own ambitions? Why must he be so handsome and dear and kind?
"This one will do," Will said, plucking a stout length of wood from the undergrowth. Sampson hopped about as Will passed Susannah the stick. A little hop from a dog of that size was enough to make a lady uneasy.
Will, however, took no notice of Sampson. Ignoring misbehavior figured prominently in his training scheme. He never raised a hand to the dogs, never shouted, but he ignored mistakes and expressed disappointment on occasion, rather like a very patient governess. He praised good behavior often, even the simple good behavior of quietly waiting.
"You have never lost your temper with a dog?" Susannah asked, pushing aside more dead leaves and ferns with her boot.
Georgette snuffled among the leaves as well, and Sampson could not seem to hold still.
"Once I lost my temper," Will said. "when I was about Cam's age. My dog, the one I'd raised from puppyhood, chewed a corner of the family Bible to bits. I hadn't realized he was trapped in the library for most of the day, so the fault was mine. My step-mother was in hysterics, and my father—who did not care a whit for the Bible—was wroth with me because of her upset."
Sampson got his jaws clamped around a protruding piece of deadfall twice as long as he was.
"Sampson, drop," Will said.
The Sampson looked at his owner without turning loose of his prize, mischief and longing in his doggy eyes.
Will met that hopeful gaze. "Drop, Sampson."
With the air of a small boy forced to sit still in Sunday services, Sampson let go of the branch.
"You lost your temper over the incident with the Bible?" Susannah asked. Under the trees, the morning was cooler, the shade welcome.
"I shouted at my dearest companion," Will said. "Called him every name a gentlemen doesn't use before ladies. Kicked him hard, once in the shoulder, and then couldn't believe I'd done that. He forgave me before the sun went down. Slept at my feet that night, and woke up, tail wagging, ready to join me in the garden the next morning, the same as any other day."
Let not the sun go down on your wrath was a biblical proscription from Ephesians. Susannah had never had much luck with that one.
"You didn't forgive yourself," Susannah said. "Sit, Georgette."
Georgette obeyed, then leaned against Susannah's leg. The dog's weight was comforting, an I'm-here sort of presence, patient and solid.
"Sampson, sit," Will said, though the dog only half-obeyed. "I didn't forgive myself. I'd betrayed the trust of an animal in my care, first by leaving him in the library, where temptation was all around, then by punishing him for behaving simply as a bored dog will. Sampson, sit."
Sampson settled in the leaves, but with a quivering, "where's my stick?!" reluctance.
"We make mistakes," Susannah said, twitching a wrinkle from Will's cravat. His dress was conservative to the point of plainness, and yet understated tailoring only made his good looks more apparent. "I made mistakes, in Kent. I thought a fellow was about to offer for me, and it turned out I'd been hasty in surrendering my trust to him."
She wanted Will to know this. Wanted him to understand that she wasn't a pillar of virtue, innocent of what went on between men and the women.
Susannah was not innocent, and she was not good, for regret had kept her up many a night. She did not regret the loss of her virtue per se, but why, if she had to yield her favors outside of marriage, couldn't she have yielded them to Will Dorning?
"I'm sorry," Will said, trapping her hand in his own. "Sorry your trust was abused. You deserve much better than that."
His eyes, so surprising in their color, were grave, and that annoyed Susannah. "You're not sorry my trust was given to another, rather than to yourself." She was about to berate him for being honorable, berate him for finding Edward Nash's bumbling selfishness inappropriate.
"You do trust me, Susannah," Will said, letting go of her hand. "I hope you always will, and as for my regrets—"
Something flashed by immediately overhead. A squirrel, a bird, Susannah knew not what, but Sampson lunged straight up from his position at Will's side, twisting in mid-air so his leash wrapped around Susannah, and pulled her hard against Will.
Will struggled to hang on to the leash, but Sampson kept leaping and whining, and then Georgette abandoned her post by Susannah's side, tangling her leash around Susannah from the other direction.
As Sampson let out one excited bark, Susannah and Will went toppling amid the ferns.
Susannah landed mostly on top of Will, a very agreeable place to find herself. She was like that young dog in the library, temptation on all sides, and nobody to ensure decorum held the upper hand over her instincts.
Knowing she ought not, knowing she'd deserve endless scolding for yielding to her impulses, Susannah bent her head and kissed the daylights out Will Dorning.
***
I want more. Right now, lol. Fortunately, you can buy Will's True Wish right now from: Amazon, Barnes and Noble, iBooks, or Kobo.
And don't forget to enter to win a signed copy from Grace herself!
Catch up with Grace Burrowes on her Website. Sign up for her Newsletter
Catch her on Facebook, Amazon, Goodreads, or on Twitter: @GraceBurrowes
See you next time! oxo