Holy crap, you guys! It's isn't everyday that you get to interview one of your faves, so excuse me while I fangirl all over today's FoX, New York Times Bestselling author, Skye Jordan.
Skye is here with here newest release, QUICK TRICK. It's the first in her brand new Rough Riders series. We're talking hot hockey studs, y'all, delivered as no one but Skye can do. And those who comment will be entered for a chance to win one of two $10 Amazon gift cards and a Kindle copy of the book!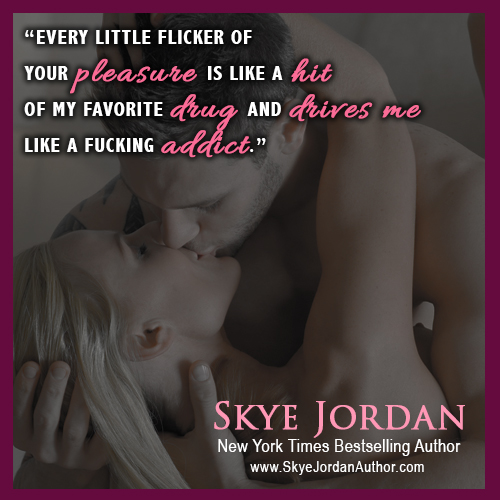 Before we jump on the Zamboni and meet the Rough Riders, I asked Skye a few fun questions.
Hi Skye! [insert fangirl squee] How do you celebrate each book release?
By giving things away. I'm funny that way, I really love giving gifts. And I really love chatting with my readers. So giving gifts to my readers is the perfect combination to celebrate a book release! I've done Facebook events, parties on my page, and Facebook hops. They're all fun.
They are! And you are really generous with your readers. I know they (we) appreciate it. Speaking of which, make sure you leave a comment or question for a chance to win!!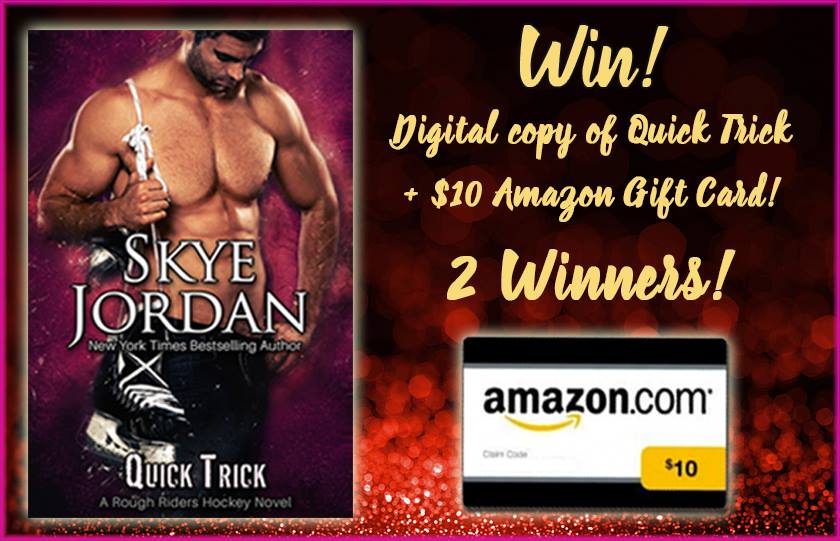 How do you balance writing and your personal life?
What personal life?
Haha! I know what you mean.
I don't [balance it]. I pretty much suck at it. That said, my life has never been "ordinary". Married to a firefighter for 25 years has pretty much turned any kind of "traditional" personal life upside down.
Wow! It doesn't surprise me that you're married to a real life hero, though.
My husband didn't work for a city department where the guys had a regular routine. He worked for the state of California and his routine was no routine. In a state where fire season lasts 8-9 months out of a year and my husband was routinely dispatched to wildland fires all over the state – and sometimes even out of state – for weeks at a time or called back to work in emergency situations, despite scheduled vacation, I've always lived with work and personal lives blurring.
But I've gotten to the point where I'm addressing one aspect of writing or another on average 16 hrs a day, everyday. And I definitely need a better life-work balance. Like, maybe…I could get a life. 🙂
You write sixteen hours a day? No wonder you're so prolific. I need to rethink my time management. 🙂
So tell me, who is your one-click, must-buy author?
I actually don't one-click anyone because even if I love an author, a storyline or character or backstory may not speak to me, so I always like to read the blurb before I buy. Most of my go-to authors lean toward the thriller genre – Dean Koontz, Sandra Brown, Karin Slaughter and on the romance side I love Suzanne Brockmann and Cindy Gerard.
Ooo, I'm not familiar with a couple of those names. I'll definitely check them out. I know what you mean about 1-clicking, though. I have run across a couple of disappointments lately, so I'm learning to be a bit more click-shy.
Here's something fun. Finish this sentence: You gotta love a romance heroine who…
…is so strong, so independent, so self sufficient, she makes the hero stand back and go…"Wow, she is kick-ass, and that is so damn hot."
Yes! Perfect. And all of your heroines fit right into that description. That's why we love them!
Could you share a sweet comment you've received from a reader?
I'm humbled when a reader tells me they've read my books over and over several times. That seriously makes me all warm inside.
I can't tell you how many times I've re-read Reckless, which was my introduction to your work. So, what can readers expect from you next?
One kick-ass hockey series!
Sweet!!
Last year my husband and I moved to the east coast from California. My husband has always been a huge hockey fan; I didn't see the draw. I've played sports my whole life, so I could get into it when my kids played or my husband played. But professional sports – eh. Then I bought a five pack of hockey tickets to the DC Capitals as a way for my husband and I to get out when he was working so much. By the middle of the second period, I turned to him and said, "I want season tickets!" And he thought that was hilarious.
LOL! That's awesome. I'm a die-hard Flyers fan, myself. I discovered hockey when I had the flu one weekend and there was nothing on TV but a game. I was hooked. Season tickets are a pipe dream for me, though.
We still don't have season tickets…and won't for some time, if ever. $$$
They're crazy expensive, and for popular teams like Washington and Philly, they're rarely available. But enough about that, let's get to QUICK TRICK!
Infamous Rough Riders' playboy Grant Saber has been sidelined for a bum shoulder. If he has to be off the ice for three weeks of recovery, he'll do it on his back—breaking in a new wanna-be cowgirl every night. But pressure from the team's owner and Grant's parents land him in his hometown of Holly, North Carolina instead. Things look up when he learns the hometown beauty who was once so out of his league is now single, and sexier than ever. Determined to slip in a night with her while he's in town, Grant is shocked to discover one will never be enough.
Faith Nicholas has no interest in the newest Saber-son gossip. After losing her father just months before, she is now on the verge of losing their family hardware store—which is also her home. She couldn't care less about the Saber's big money or flashy toys. But she can't seem to keep Grant out of her store–or her dreams. His magnetic charisma is impossible to ignore, and the longer he stays in town, the more she finds to love about a man who isn't as superficial as he'd like others to believe.
With a struggling store, four-hundred miles and a rigorous hockey season looming between them, Grant will have to pull out his very best moves if he's going to make this quick trick last forever.
*****
Skye was kind enough to share an excerpt with us. Enjoy!
*****
But he turned and pushed her up against a wall. Her laughter died, and heat sparked in her eyes. She lifted her hands, pressing them against his chest, but didn't push him away. He leaned in until their hips met and their thighs brushed. Her breath quickened. Her pupils dilated. And the look on her face… She wanted him just as badly. She just didn't know how to jump. But Grant couldn't keep playing this game with her. He didn't do games at all, yet she'd dragged him into this one. And as enticing as it might be, Grant didn't have enough time. Or enough patience.
She needed a push.
He slid an arm behind her and drew her in with a forearm at the base of her spine. Her softness pressed against his growing erection, and pleasure washed through the lower half of his body. He moaned softly and rocked against her until she made the same sound. Until her lids grew heavy. Until her fingers curled into his shirt. Until she murmured his name in that voice that said make me come. "Grant…"
"Is this what you want, Faith? If you want me to take control, I will. But if I lead, I'll do it my way."
Her gaze jumped from his mouth to his eyes. "What's… your way?"
For a split second, he considered lying. He thought about telling her what she wanted to hear just to get her into bed. He wanted her that badly. And that reality— more than anything else— pushed a very harsh description from his mouth.
"If I did it my way, I'd do you right here, right now, up against this wall."
Her breathing picked up. Her eyes sparked with surprise and lust.
"I'd cover your mouth with my hand and drive into you until you snapped in a screaming climax. All while the whole store, the whole fucking town of Holly, was just six inches away. And it would be our sweet little secret.
One you'd think about every time you walked into this room."
She made a sound in her throat. Her lids dipped. She licked her lips.
"You like that idea," he said, "don't you?" And wasn't that the biggest fucking surprise and the hottest rush?
Her gaze darted away. "I… I don't know. I can't think…"
"Then imagine"— he told her, pushing harder, half hoping she shoved him off and walked away, half hoping she told him to take her right then—" because I talk as dirty as I fight, and I fuck as hard as I play."
She breathed a moan, and her eyelids slid closed.
But it was the feel of her body softening, of the way she started moving with him, not against him, that finally blocked his ability to think.
*****
Wowsers! This series is going to be amazing. I can't wait to sink my teeth into QUICK TRICK this weekend. Grab your copy on Amazon. Kindle Unlimited subscribers can read it for free! And don't forget to comment below for your chance to win a Kindle copy of the book, and a $10 Amazon gift card!
Skye's New York Times bestselling novels are all about enjoying that little wild streak we all have, but probably don't let out often enough. About those fantasies we usually don't get the opportunity to indulge. About stretching limits, checking out the dark side, playing naughty and maybe even acting a little wicked. They're about escape and fun and pleasure and romance. And, yes, even love, because Skye is ultimately a romantic at heart and a happily ever after kinda gal. Skye also writes romantic suspense as Joan Swan, weaving fast paced novels of passion, danger and suspense.
Skye is a California native recently transplanted to the East Coast and living in Alexandria, Virginia, just outside Washington DC with her husband of 25 years. She has two grown daughters in college in Colorado and Oregon. In her free time she's always taking classes and attending seminars. She's currently loving rowing on the Potomac, mosaics and pastry and cooking classes.
Catch up with Skye on her website, on Facebook, and on Twitter.