Hello my lovelies! It's the first Friday of Autumn, my favourite time of year. It's only fitting that I have one of my favourite people with us here today.
Kimberly Kincaid writes sexy, sassy romance and her latest, SKIN DEEP, is a feast!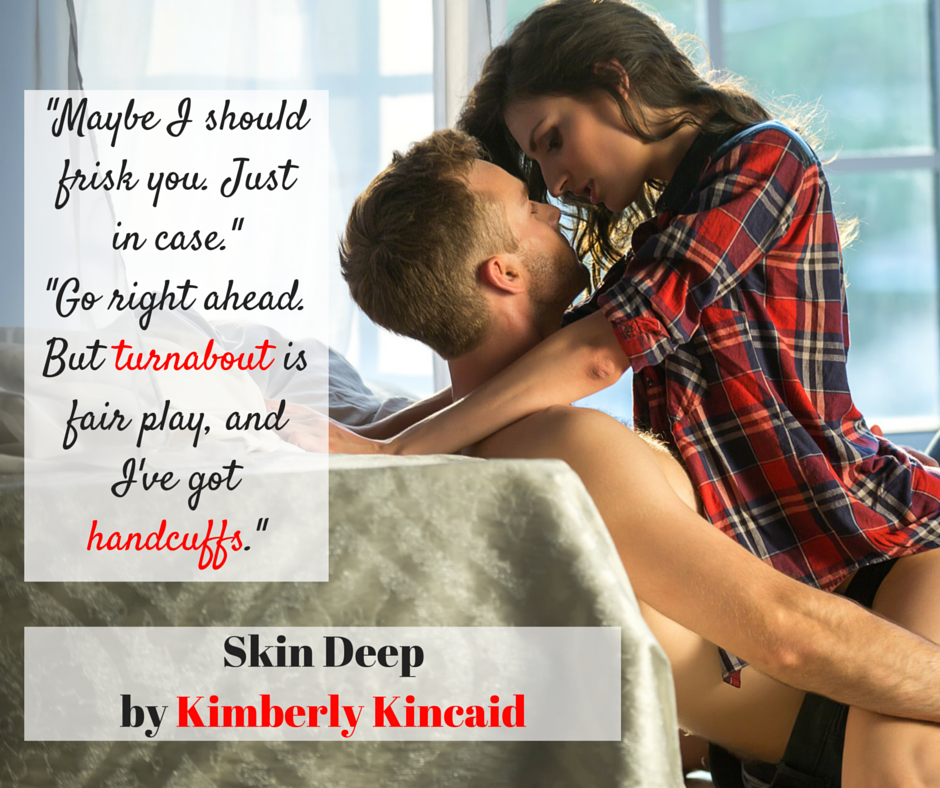 Before we dive in (like what I did there?), let's chat with Kimberly. I asked her some fun questions! Also, she's giving away a digital copy of SKIN DEEP! All you have to do to comment below to be entered. 
Welcome to my lair, Kimdoll! So tell us, is there a scene in your latest release that you particularly enjoy?
This is my first romantic suspense, so there were a bunch of scenes that were out of my wheelhouse but a lot of fun to learn how to write. I really love the action scenes, but I think one of my favorites is the one where my firefighter hero and my cop heroine go over a crime scene together. It's very CSI!
Ooo! I'm so excited to read it. My Kindle is calling to me, lol. What writing rituals help to get your mojo flowing so you can write?
I get up very early (I'm writing this at 5:30 AM and it's not the first thing I've written today!) I love working in the morning when no one else is up or about. I also need total quiet to write. I plot with music on, but writing? It has to be shhh!
Wait, there are two five o'clocks in a day? 😉 I need music to write, otherwise every little noise distracts me. Hehe. Okay, name three authors (living or dead) who you'd like to sit down to dinner with and pick their brains.
I'm a giant Shakespeare nut, (me too!) so definitely Old Bill (iambic pentameter! Come on!) I have also never met JR Ward and she's on my list of people who I'd be breathing in a paper bag to meet. Also, Judy Blume, who wrote the first romance I ever read. It'd be a helluva table!
OMG, no kidding. And Judy Blume! How awesome would that be? You'd have to invite me along. Right, here's an easy one. Describe your dream date.
I'm actually not terribly fancy when it comes to this—I'd probably cook with Mr. K because we love it. Then we'd eat together with no distractions like phones or iPads, and there would be wine. But honestly, the date would probably happen at home. The dream part is that it would be tidy and no one would have to do dishes, LOL!
Haha! No interruptions. I have no idea what that's like anymore. 🙂 What would the title of the movie about your life?
Is there a way to get crazy-busy and insanely happy into a title? I have three girls, a husband, a full time job as a romance author…we go pretty fast around here! But I love every second.
Awww, so lovely! Okay, here's a hard-hitting question. How many pairs of shoes do you really own? 😉
I haven't done a count in a while! But it's between 150 and 200. As my 14 year-old says, "That's my jelly-jam." I also collect lipstick. That's a whole different post!
Holy wow! That's a lot of shoes. We must talk lipstick sometime. 🙂
And now more about SKIN DEEP…
Where there's smoke…
For firefighter Kellan Walker, checking his emotions at the door doesn't just keep him on the level. It keeps him alive. A gut-wrenching find at the scene of a blaze threatens to blow his ironclad composure, but when the detective assigned to the case is the same woman who put his sister's life at risk three months ago, all bets for Kellan being calm, cool, or collected are definitely off.
There's bound to be fire…
Keeping people safe is Isabella Moreno's number one priority, no matter how tough the case. Working without solid leads and with the gorgeous, broody firefighter who believes she's responsible for endangering his sister on a previous case isn't ideal. But someone is hurting women in the here and now. Isabella will do whatever it takes to find justice.
As Kellan and Isabella reluctantly team up to catch a criminal, they realize they have more in common than they'd ever imagined. With every move, the stakes grow higher and the passion sizzles hotter, but can they race against the clock and the odds to catch a killer? Or will they lose their hearts–and their lives?
Go read the first chapter, and then grab a copy of SKIN DEEP on Amazon, B&N, iBooks, and Kobo.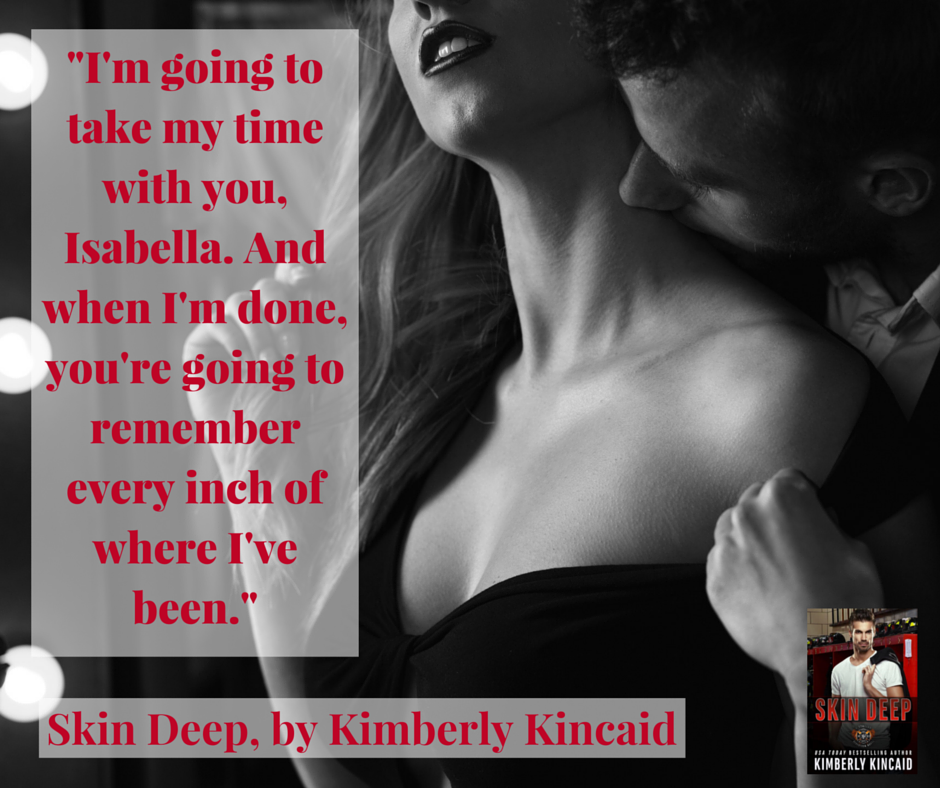 Remember, Kimberly is giving away a digital copy of SKIN DEEP! All you have to do to comment below to be entered. Easy peasy!
Kimberly Kincaid writes contemporary romance that splits the difference between sexy and sweet and hot and edgy romantic suspense. When she's not sitting cross-legged in an ancient desk chair known as "The Pleather Bomber", she can be found practicing obscene amounts of yoga, whipping up anything from enchiladas to éclairs in her kitchen, or curled up with her nose in a book. Kimberly is a USA Today best-selling author and a 2016 and 2015 RWA RITA® finalist and 2014 Bookseller's Best nominee who lives (and writes!) by the mantra that food is love. Kimberly resides in Virginia with her wildly patient husband and their three daughters.
Sign up for Kimberly's newsletter www.kimberlykincaid.com (She gives away five books a month!)
Join Her Street team, find her on Facebook, her Amazon author page, on Twitter, Instagram, and on Pinterest.