Hello my lovelies! I'm so excited to have Mia Sosa with us this week. Mia's here with her latest release, GETTING DIRTY WITH THE CEO, book three in her Suits Undone series. And she's offering a Kindle copy of book one, UNBUTTONING THE CEO. All you need to do to enter the giveaway is comment below.
Before we get down and dirty with Daniel, I asked Mia some fun questions so you could get to know her better.
What made you first pick up the pen to write?
Frustration. At the time, I'd been practicing law for many years, and I had a grueling schedule and workload; writing fiction became my escape. I drafted several first chapters of books that will never see the light of day. When I stopped practicing law in 2014, I knew exactly what I wanted to do: Write a second chapter. And I did.
Lucky for us! 🙂 Were you an avid romance reader before you starting writing in the genre?
Oh, yes. I started reading Harlequin earlier than I should have, and then Linda Howard and I had a moment in my teens. More recently, Kristan Higgins and Brenda Jackson were my go-to authors when I was practicing law and needed a comfort read (see above) and now I'm reading lots of books written by people I actually know or have met, which is surreal.
I know what you mean, lol. Name some of your favorite authors who do not write romance.
Toni Morrison. I read Sula in high school, and I've been in love with Morrison's writing ever since. It's both lyrical and emotionally raw, and in my humble opinion, that's a hard combination to do well. I loved Dolen Perkins-Valdez's first book, Wench. She, too, writes like she's penning a song. I've yet to read Balm, which I believe is her second book, but it's on my to-be-read list. Also, Roxane Gay—because she's Roxane Gay.
Indeed! So, what do you do when you finish a first draft?
Set it aside for at least a week and detox my brain. The key for me is to think about the draft as little as possible during this period; that way I can return to it with fresh eyes when I embark on the revision process.  The result? There are lots of "What the heck was I thinking?" moments when I edit.
Haha! I have those throughout the revision and editing process. Which TV show(s) can you absolutely not miss every week?
Project Runway and Top Chef; I love reality-television competition shows. I also just started watching the first season of Game of Thrones, and I'm kind of obsessed. It's great to be watching Season One when everyone else is well beyond it; if I were to read a spoiler on Twitter, I wouldn't understand its significance. And Queen Sugar looks like it's going to be at the top of my can't-miss-TV list soon.
I love Game of Thrones. I haven't seen Queen Sugar yet, but it's on my list. What dish, when you prepare it, has everyone asking for seconds?
Baked macaroni and cheese. My kids would eat it every day if I let them.
Yum! Okay, time for some tough questions. 😉 Heels or flats?
Heels; they do nice things for my calves.
Whiskey or wine?
Wine. ALL the wine.
Leave some for me, lol. What can readers expect from you next?
My next book is tentatively titled Lights! Camera! No Action! My heroine's a personal trainer, and the hero is an actor who recently lost weight for a movie role. He's hired her to help him get back in shape, but she's not happy about it. I see a Zumba class in his future.
Haha! That sounds like a lot of fun.
Let's learn more about GETTING DIRTY WITH THE CEO.
Sometimes you have to get a little dirty to get what you want . . .
Publicist Mimi Pennington is at the top of her game. She's savvy, hard-working, and eager to move up the corporate ladder. So when her boss tells her that in order to make partner she has to land a prestigious account, Mimi meets the challenge head on. Never mind that the prospective client is Daniel Vargas, the polished and pompous player who rejected her months ago.
Mimi hasn't given Daniel the time of day since their one fateful encounter, and while business has brought them back together, pleasure is what he has in mind. She says she's not interested in giving him a second chance, but Daniel is prepared to call her bluff. All he needs is one week. One week to test her rules and prove that he's exactly the kind of man she needs . . .
Well, hot dang! That sounds like an awesome read.
Mia also brought us an excerpt. Enjoy!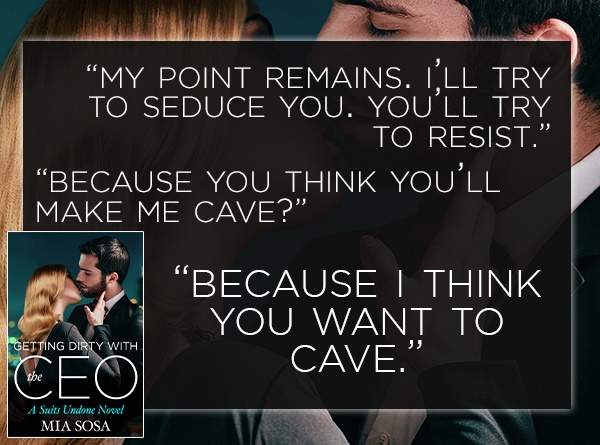 "So I'm guessing you were in on that back there?" he said behind her.
With brisk movements, Mimi readied a tray of champagne. "I was."
"That was really sweet."
Mimi stopped fussing with the wine glasses and straightened her shoulders. "It really was. I'm so freakin' happy for them." She wiped her eyes. "Eyelash."
He laughed as he unwrapped another bottle. "Right. Can't have anyone thinking Mimi has a heart."
"What's that supposed to mean?"
"Oh, c'mon. You pretend you're this hard-ass, but I'm starting to suspect you're really a softy inside."
"You're an expert at pretending, so you should know, huh?"
"Pretending? What do you mean?"
"Look at you, Daniel. Your hair's never out of place, your clothes are never wrinkled. I mean, I've never seen anything but a smile or a sly grin on your face."
"You say all that like it's a bad thing."
"It is. It's unnerving. No one can be happy one hundred percent of the time."
"I'm not. I just don't shit on other people's days because I'm having a bad one myself. So, listen, I've been meaning to talk to you about what we started in Puerto Rico…"
"Oh no, Daniel. That ship has sailed." Pointing to her crotch, she continued, "The porthole is closed." Then she pointed to his crotch. "There she does not blow."
Daniel barked out a laugh. Did she just make a joke about not giving him a blow job? That did it: She was his dream woman. "Are you done with the maritime references?"
"The last one was a literary reference."
"Wait. Are you saying I have a Moby Dick? Dating me sounds like a no-brainer then."
***
Pick up a copy of GETTING DIRTY WITH THE CEO at Amazon, Barnes & Noble, and iTunes.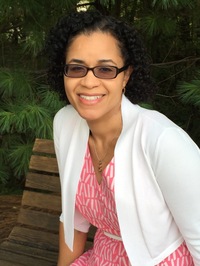 Mia Sosa is an award-winning writer and 2015 Romance Writers of America® Golden Heart® Finalist. She writes contemporary romances that are funny, flirty, and a little dirty. Ahem.
Although she once dreamed of being a professional singer, the pesky need to generate steady income led Mia to take the law school admissions test instead. She practiced First Amendment and media law in the nation's capital for ten years before returning to her creative roots. Now she spends most of her days writing love stories about smart women and the complicated men who love them. Okay, let's be real here: she wears PJs all day and watches more reality television than a network television censor—all in the name of research, of course.
Mia lives in Maryland with her husband and two daughters and will forever be on the hunt for the perfect karaoke bar.
Contact Mia:
Website: www.miasosa.com
Facebook fan page: https://www.facebook.com/miasosa.author
Facebook profile: https://www.facebook.com/miasosaromance
Twitter: https://www.twitter.com/miasosaromance
GoodReads: https://www.goodreads.com/author/show/14552097.Mia_Sosa