Hey, my lovelies! It's Friday, the 13th, and for you that's a very lucky thing. Today we have another debut author, Wendy Goldberry. Wendy is part of my local writing group in Philadelphia, so I'm super excited for her very first release, For I Have Sinned. (Love that title!)
Before we get to the book, which is sizzling hot, I asked Wendy a few questions.
How long have you been writing?
I wrote my first poem when I was eight years old and haven't looked back. I've gone through the bad teenage poetry phase, the awkward and pretentious college literary magazine period, and now I'm a published author. Writing is my addiction. If I'm not doing it, I'm thinking about it.
How excited were you to hit "publish" on your first release?
I was terrified! Writing exposes you to so many people, so many opinions. Hitting "publish" let the world see through a weird prism, and although it was exciting to have people read my first story, it was scarier than I thought it would be.
I know what you mean! I couldn't eat or sleep for the first few days, lol. Name three authors (living or dead) who you'd like to sit down to dinner with and pick their brains.
One of them would have to be Mary Shelley, author of Frankenstein. I wrote my senior thesis of her most famous book (she wrote others) and she led such an incredible, literary life. The second would be Stephen King. "On Writing" changed the way I write and how I read. It's inspirational, a must-read for all writers, and Mr. King seems like an interesting character.
Great choice, there. That book has changed the lives of many writers.
My last pick would be Lin-Manuel Miranda. He's been praised as the Shakespeare of our time and it seems like everything he touches turns to gold. I want to know his secrets!
He is amazeballs! Have you seen Hamilton yet? I'm still kicking myself for not going when RWA was in New York, right above the theatre. *cries* If you could live anywhere in the world, where would that be?
Paris! I went there when I was sixteen and fell in love with the city. Now if only I spoke French.
I love Paris. I need to go back, it's been far too long. Which TV show(s) can you absolutely not miss every week?
I'm guilty of binge watching Netflix, especially when I should be writing. I just finished season one of Daredevil. Once that's finished, I think I'm going to start Stranger Things. I've heard great reviews!
Stranger Things is awesome, I think you'll love it. I enjoy Daredevil too, and all of the Marvel shows. So, how do you relax at the end of a long day?
Well, the PG-13 answer to that would be watching a movie with Mr. Always Right and our cats while eating pizza. Or a warm bubble bath while listening to the radio.
Nice! What can readers expect from you next?
XXX rating. My books are erotic. Explicit. I don't do sweet, closed door romances. Expect sex and lots of it. I tell people I like to break rules and push a reader's limits and I think that shows in my debut story. It's short but packs a punch.
And now, a bit more about Wendy's first release.
Sister Claire lives a simple, sheltered life as a Sister of the Little Heart. After being forced out onto the streets as a teenager, she joined the convent seeking food, shelter and a home. She was content and thought she found some sliver of happiness. She creates a job at the local Catholic school and is ready to begin her first year as a middle school music teacher. All is going well until David walks into her life at a PTA meeting. This sexy, middle-aged school teacher turns her world on its head.
As a widower, David never thought he could feel love for another woman after he lost his wife six years ago. But this new, young nun catches his eye, and their chemistry is undeniable. As professional colleagues, they keep a distance from one another for weeks, until their slow, steady buildup of attraction can't be denied any longer. How are they going to keep their affair hidden from the watchful eyes of the teachers, parents, and other nuns? How does the fourteen year age difference affect their relationship? And how can they find happiness together if Sister Claire is just that… a nun?
Whew! This is a steamy read, trust me. Grab your copy of For I Have Sinned at Amazon and on Kobo.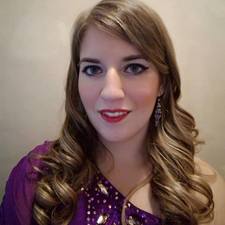 Wendy Goldberry is a caffeine addict who caught the love bug before she was even old enough to drink coffee. She blames her mother for her love of all things romance related, especially after forbidding Wendy not to read the romance novels in their house. By age fifteen she'd read half of the books her mother owned.
Wendy moonlights as a legal secretary for an insurance defense firm, surrounded by quirky people and stacks of paperwork by day. At night, she has her head buried in a book, her nose stuck in a glass of wine, and her feet tucked under a warm blanket next to a couple of sleepy kitties.
She loves all things romantic, kinky, and taboo and enjoys combining all three to push her readers' limits. In her imagination, nothing and no one is off limits. The heart wants what the heart wants.
She loves going on life's roller coaster ride with her amazing husband, who she snagged at age fifteen as her first and only boyfriend. Jackpot! They live with their two cats, Ripley and Dutch (a.k.a. Alien and Predator) in their little hobbit hole in Philadelphia. You can reach out to Wendy on Twitter and Facebook.
---
Have you pre-ordered your copy of Hot on Ice: A Hockey Romance Anthology? The collection features brand new, super sexy stories from myself and 17 other  fabulous writers!
Little did they know that winning the Cup would just be the start of the hottest summer of their lives. . .
The New Orleans Cajun Rage professional hockey team just won The Cup. No one thought they'd do it: they were a team of shoulda beens, never coulda beens and a star or two. They'd only been in the Crescent City for three years before this year's Cinderella run that had them skating off the ice with the championship.
Over the following summer, each player gets to keep the Cup for a day. Nobody knows why, but whoever has the Cup falls in love.
USA Today Bestsellers Robin Covington, Desiree Holt, Kimberly Kincaid, Nana Malone and Virginia Nelson, Publisher's Weekly Bestseller Angi Morgan, along with myself, Christi Barth, Andie J. Christopher, Avery Flynn, Kim Golden, Lena Hart, Robin Kaye, Katie Kenyhercz, Heather Long, Kate Meader, Susan Scott Shelley, and Misty D. Waters bring you 18 romances with smoking hot heroes—both on and off the ice.
Hot On Ice: A Hockey Romance Anthology will be released on March 21st. I'm beyond thrilled to be a part of this project! You can add it to Goodreads and pre-order your copy now on Amazon, iBooks, Kobo,  and B&N.