Hello, my lovelies! Please help me welcome Brenda Margriet back to FoX Friday. She's here with her brand new release, No Life But This.
I've been waiting for Brenda to share this book with the rest of the world. It's such a lovely story. So refreshing, and set in one of my favourite places on earth.
Abigail Garsson feels trapped in her safe, boring, conventional life. Desperate to escape, she signs up for an adventure vacation on the Portuguese island of São Miguel.
Santos Carregado enjoys introducing tourists to his tiny island in the middle of the Atlantic. At first he barely notices the unassuming Abigail. He soon finds her meek exterior hides a vibrant woman who teases his senses and ignites his passion.
Abigail is stunned to discover the handsome, confident Santos is attracted to her, but his fiery kisses and searing caresses convince her to accept a sensuous invitation.
Will the realities of life shatter Abigail's holiday daydream? Or can the shifting sands of a short-term fling become the rock on which a life-long relationship is built?
Brenda was sweet enough to bring us an excerpt! Read on…
They set off single file, and Santos found his eyes drawn to Abigail's trim hips, snug in her black shorts. She was the exact opposite of the bold, curvaceous, confident women he normally flirted with, but the way she attacked the hill with grit and determination struck a chord in him. And he was fascinated with her voice, the rasp of it, the way it seeped into his blood.
She raised herself on the pedals for more leverage. Santos swallowed a groan at the tight, wiggly little ass directly in his line of vision. A bike was not the most comfortable place to have an erection. He swung to the outside and pulled up next to her, away from the distraction.
"Are you sure you don't want to walk for a bit?"
"I can do this." She leaned over the handlebars, wobbling slightly with each determined push on the pedals, but kept her balance. "I'm going to do this."
He dropped back again, keeping his eyes scrupulously on the road.
A few moments later she careened to the left, well into the lane of traffic, over corrected, and teetered back to the right. Before he could react, her handlebars caught on the high earthen berm through which the road ran and she stumbled to a stop, almost tumbling to the ground. He braked behind her.
She panted with effort, head bent, chest heaving, and he watched with rising frustration. Stubborn woman. "That's enough." He swung his leg over his seat. "We're walking."
She dismounted slowly and he could see the tremors in the muscles of her thighs. "Damn it," she rasped as she pushed the bike up the hill. "Damn it, I wanted to ride it, ride it all the way."
She was silent except for the hiss of her breath, and defeat dragged at her shoulders, but her eyes were dry. "Get back on," he said abruptly. She looked at him in surprise and he softened his tone. "Get back on, and I'll help you."
She settled back in the saddle and he placed his hand in the small of her back. Moist heat seeped through the thin material of her shirt into his palm. "One, two, three, go." They pushed off together and he could feel her muscles flexing with effort.
"That's it, keep going." Her foot bobbled off the pedal but she quickly recovered. He concentrated grimly on pushing her up the hill. The sooner they reached the top, the sooner he could stop touching her, and the sooner he could forget his odd, irritating reaction to this wisp of a woman.
***
You love it, right? So go grab a copy now on:
Amazon US: http://a.co/iQ2np2C
Amazon CA: http://a.co/907Etjw
Amazon UK: http://amzn.eu/blAQh9C
Kobo: https://www.kobo.com/ca/en/ebook/no-life-but-this-2
Nook: http://bit.ly/2fGjENo
iTunes: https://itunes.apple.com/us/book/id1175920486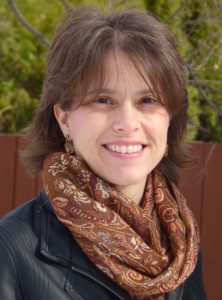 Brenda Margriet write contemporary romances with heroes you'd meet at the grocery store. And by that she means real-life men – sexy, smart and looking for the love of their life. Her heroines are bold, savvy and determined to accept nothing less than the man they deserve.
A voracious reader since she was old enough to hold a book, Brenda's idea of the perfect holiday involves a comfortable chair near the water (ocean, lake or pool will do), a glass of wine, and a full-loaded e-reader.
She lives in Northern British Columbia with her husband (as well as various finny and furry pets) and has three adult children.
Catch up with Brenda on her website, Facebook, Twitter, Goodreads, and on her Amazon Author Page.