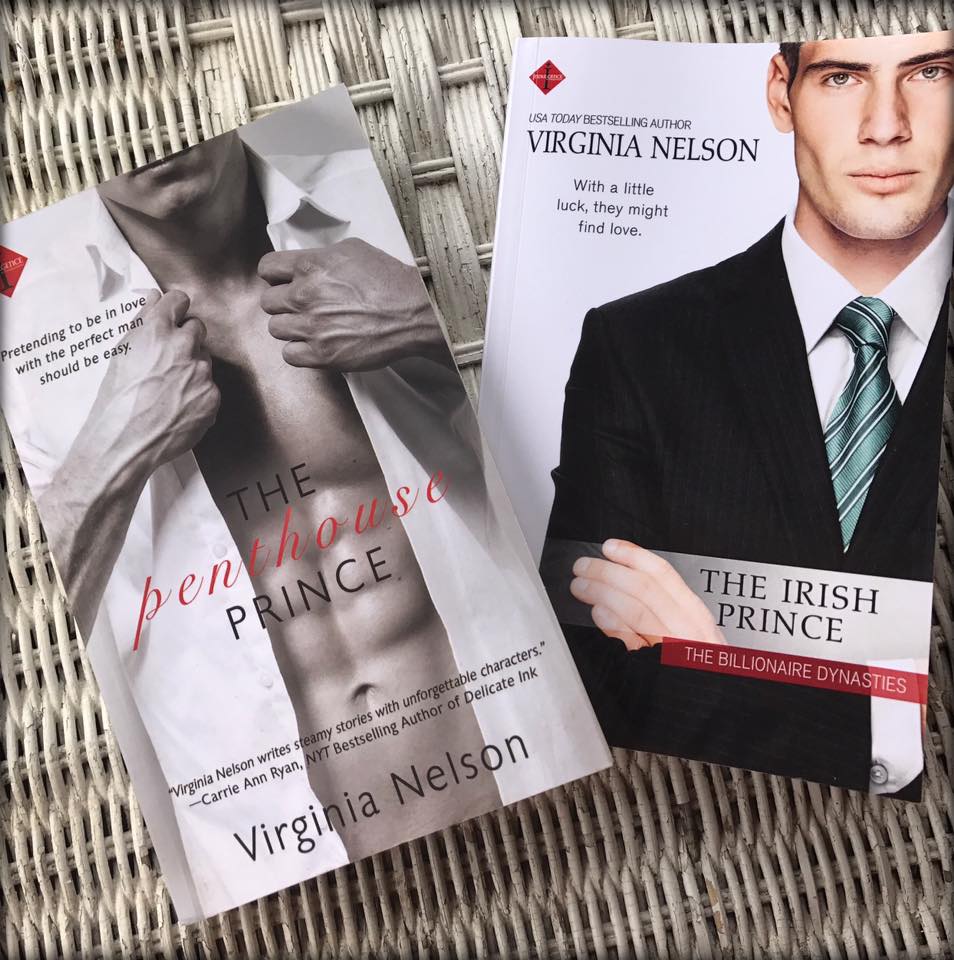 Hello, my lovelies! This week, we're joined by the lovely and talented Virginia Nelson. She's here with her brand new release, The Irish Prince.
Before we get to know the delectable Aiden Kelly, let's learn a little bit about Virginia.
How long have you been writing?
I started writing as a kid. I even used to swap this spiral-bound notebook back and forth with my best friend in high school—she'd write a chapter then I would in my next class—so storytelling was always a great love for me. It wasn't until I was way older, though, that I considered doing it for publication… It took that long for me to realize my stories were something more than a way to make myself happy!
And we're so glad you did! Do you have a single book or character that's dear to your heart, and why?
I tend to be the most in love with whichever hero I'm writing at the moment, but I have to say I'm really proud of two of my novellas. Dom of the Dead is one, because so many readers identified so much with the grief in that story. I got more emails from readers on that one than any of my other books. The second was Forever Devoted, because I gave the heroine a TBI. Since the symptoms are quite similar to those from a stroke, I just identified with the heroine a lot, making it really hard to write.
Oh, wow. I have to grab that one. Sounds amazing! Do you have a one-click or must-buy author whose books you just have to have?
I'm insanely addicted to everything that Kristan Higgins writes.
Haha, who isn't?
She makes me laugh and ugly cry every single time. I love her books.
Me too. 🙂 Name some of your favorite authors who do not write romance.
Shirley Jackson, Thomas Hardy, Stephen King, and Stephen Hawking
Nice! How do you celebrate each book release?
It varies! I usually try to do something nice for myself, which is generally something with my kiddos. With my most recent release, I got a massage. That was new… and something I might repeat. It was delightful!
Ahhh, that sounds like the perfect way to wind down after the frenzy of a release. What can readers expect from you next?
This is an exciting year for me. Next up for me is another release in the fabulous Robyn Peterman's Magic & Mayhem Kindle World. That series is full of hysterical paranormal misadventures, and I'm so happy to be able to do another story there. Don't want to spoil it, but I'm twisting a fairytale for that one. Then I'm part of a surprise marriage anthology. In August, I have another Entangled release, this one for the Bliss imprint. Like small town romances? If so, that one will make you quite happy.
Well, we cannot wait for each and every one of these.
Thanks so much for having me!!!
CEO Aiden Kelley's life of billionaire extravagance is flipped upside down when his ex shows up with a ten-year-old she claims is his. Totally out of his element and losing the control so integral to his success, he needs help. To top it all off, the only constant woman in his life, his executive assistant, has given notice just when he needs her help to survive his newfound fatherhood.
Chelsea Houston is an executive assistant, not a nanny. The only person more clueless about kids is her boss. Helping him on a daddy-daughter road trip is her last task before he'll accept her two weeks' notice and she can be free of the infuriating man she's had a crush on for longer than she'd admit. Aiden's carefully ordered life has never been so disorganized, and he's suddenly tempted by the things he thought he could never have. Things like love and family. Who knew chaos could be so damn fun?
How about an excerpt? 🙂
This close, he could smell her. He could see the way her pupils dilated when he touched her. He could hear the quick intake of breath as she otherwise went very, very still.
"I can't begin to thank you enough for your quick thinking and willingness to help make all of these bumps in the road smooth for Waverley," he said.
But what he was thinking was that kissing her might not be such a bad idea after all. He was thinking of how her lips might taste and how she'd fit into his arms.
"Glermpfh," she answered, turning away.
Faced with her stiff and poised back, he considered that response. She'd moved to stare at the pump as the numbers ticked upward, but her hand shook.
Just a little. Not something he even would've noticed if he hadn't been so intently studying her. "We should get a room," he said.
She abruptly yanked the nozzle out of the car, but didn't stop squeezing the handle, sloshing gas all over the side of the car and onto his legs and shoes. Her scent vanished, washed away in the noxious fumes of fuel.
Dudes…don't you want to get that, like, right now? You can! Grab it at:
Amazon – http://amzn.to/2pLk1z5
Print – http://amzn.to/2pDKHiu
AmazonUK – http://amzn.to/2pLckbZ
Amazon Canada – http://amzn.to/2p9ZJuV
B&N – http://bit.ly/2oNWJVR
Kobo – http://bit.ly/2pnNq1Y
Google – http://bit.ly/2qa265D
iTunes – http://apple.co/2qgIjO3
USA Today Bestselling author of The Penthouse Prince, Virginia Nelson likes knights in rusted and dinged up armor, heroes that snarl instead of croon, and heroines who can't remember to say the right thing even with an author writing their dialogue. Her books are full of snark, sex, and random acts of ineptitude – not always in that order.
Visit Virginia on her website, on Facebook, on Twitter, on GoodReads, or on her Amazon Author Page.
---
Check out the books above.
Now imagine receiving all of them FOR FREE!!
AMAZING, right?!
A few of my uber-talented New York Times and USA Today bestselling friends and I have decided to run an amazing giveaway that lets you try one book from each of us! Why? Because I am confident that if you like my books, you will like these as well. Why not GET TO KNOW some other authors?! Aaaaand…everyone who enters to receive our books will ALSO be entered to win 13 signed paperbacks – one from each of us (see below!)
Seriously? This is the biggest win-win EVER!
TO ENTER:
1. LIKE my Facebook page: www.facebook.com/XioAxelrod
2. FOLLOW me on Amazon: https://www.amazon.com/Xio-Axelrod/e/B00JCFOOHY
3. CLICK on the link below to enter!
**All entrants will receive links to the 13 free e-books the week of May 29. The links will come via each author's individual newsletter.
**The winner of the 13 signed paperbacks (see below!) will be announced on May 29.
**Open internationally.
GOOD LUCK!!!!