Hello, my beautiful friends! I'm super excited today because CAMDEN is finally here. This book is a little different for me, and I'm anxious for you to meet the Skinner boys. So, please, grab a copy and let Camden fill your pint glass.
Sometimes there's a moment when you know you've screwed up. For Camden Skinner, it's the night a dead pop star walks into his pub.
As one-half of Skin, an agency which specializes in cleaning up behind the ultra-rich and infamous, Cam has gotten used to getting his hands dirty. A little too used to it. After the young singer at the center of a client's controversy is found dead, Cam decides he's out. He walks away from Skin in search of a simpler life. Maybe even a shot at redemption.
Redemption arrives in the form of Yara Bujold.
The singer's meteoric rise to the top surprised no one more than Yara herself. All she ever wanted was to make music. Caught up in the dark underbelly of the industry, Yara is forced to fake her own death. But she can't hide forever.
Yara tracks down one of the principals at Skin, the very people that helped to tear her down. She'll force Camden Skinner to make it right, whatever it takes. What she doesn't expect is remorse from the man that helped to ruin her. And she certainly doesn't expect to lose herself in him.
Cam finds himself sucked right back into a world he'd hoped never to step foot in again, but he can't walk away. He has to fix this. Not only for himself, but for her. For Yara. Because she might just be everything he didn't know he needed. She just might be everything.
The idea for CAMDEN came about when I met my brother-from-another-mother, Stu Reardon, in Dublin last October. Stu has inspired quite a few authors, and I am no exception. He's a beautiful person, inside and out. Be sure to check out his awesome online program: Fear Nothing Fitness. He'll whip you into shape!
CAMDEN is set in Philadelphia and features a family of Scottish ex-pats, which seems to be my kink. LOL! This is the first book that bridges my two worlds: romance and music. You can pick up the single "Stranger" on iTunes, Amazon, and stream it on Spotify. Take a listen!
Now, how about an excerpt?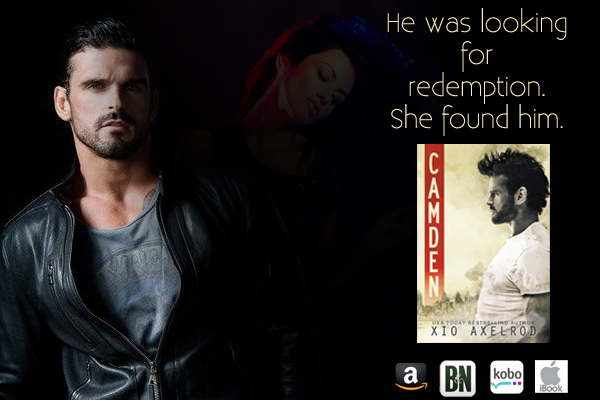 It was nights like this that Cam truly enjoyed his new occupation. This was so much more pleasant than sucking up to powerful assholes and helping them to look less like assholes in the public eye or playing bodyguard to an oil tycoon on a bender in Vegas.
But like the chewing gum you step in on a hot summer's day, Cam couldn't seem to scrape Skin from his heel.
At first, he thought his mind was playing tricks on him. Cam had spent so much time staring at photos of Yara Bujold, devouring any scrap of information he could find on her, he felt like he knew her. So when she walked into Skinners, clad in a hoodie, loose jeans, and dark sunglasses, presumably to conceal her identity, he'd only been a little surprised.
She'd been missing, presumed dead, but he'd known she wasn't. Had known it in his gut. And though no one else in the room seemed to recognize her, Cam would have known her anywhere.
There was something in the way she carried herself. A regal air about her, though she hunched her shoulders now as if to hide in plain sight. Her signature long, dark hair was twisted up and hidden partially by a snapback that was pulled down over a bright purple bandanna.
Yara made her way to the back of the bar, settling in a corner with full view of the space.
Kris wound his way over to her and Cam watched as she placed her order without a glance at the menu. Probably not much money in her pocket, if she'd been on the run all that time.
Cam snagged Kris on his way to the kitchen.
"Boss?"
"The lady in the back, what did she order?"
"Coffee and curry fries."
"Have Rocco make her a grilled cheese too." In his research, Cam had learned it was her favorite. Along with peanut butter, Coke, and cheesy snacks. Strange, the minutiae that had stuck with him.
Kris cocked his head. "Oh, okay. Sure. On you?"
"Everything is on me. Take her the food and leave her be. I have a feeling she's going to be here for a while."
Kris nodded and went on his way.
Cam went back to tending the bar, keeping a close eye on Yara Bujold throughout the evening. She'd ravaged the sandwich when it arrived. Had questioned Kris about it.
"What did she say," he asked when the kid passed by again.
This time, Kris eyed him suspiciously. "She tried to refuse it. I told her there was a mix up in the kitchen about her fries, and that it would all be on the house. I'm getting her fries now."
"Good man."
Kris squinted in the girl's direction. "She an ex or something? She looks familiar."
Cam caught Kris's gaze. "No. Just…keep an eye on her. Give her anything she wants."
The blond quirked an eyebrow. "On the house?"
"Yes, on the house."
Kris smirked. "Not an ex. Sure."
Cam watched him walk all the way to the kitchen where he disappeared through the swinging door. Let him think whatever he liked.
Surprisingly, no one approached Yara. Could be because she'd kept her head down, hunched over her phone as if she were engaged with something. Cam knew she wasn't. Judging by the lack of light on the screen, the phone wasn't even on.
It couldn't have been a coincidence, her being there. Which meant she knew who he was. What he'd done. To her.
Shit.
He didn't have time to be worried about that, though. He was too fucking relieved to see her alive and well and fucking breathing. Cam figured she'd need help to get her life back. No one pulled a disappearing act without good reason, especially not someone who had the world in the palm of their hand. Besides, he owed her. Hell, even if he hadn't, he would give her anything she needed. Anything.
***
Woot! I hope that made you want to 1-click CAMDEN. Did it? Did it? Awesome! You can grab a copy at Amazon, Barnes & Noble, iBooks, and Kobo.
I'll be celebrating CAMDEN for the rest of the month (and well into June). In fact, I'll be part of, not one, but two Facebook parties next week!
On 30th May, I'll join the lovely and talented Sarah Hegger and Terri Osburn to help them celebrate their new releases, POSITIVELY PIPPA, and THE LAST IN LOVE. Then, on 31st May I'll help Stephanie St. Klaire celebrate her 40th birthday and her new release, FEARLESS. I will have some lovely prizes for those parties, so make sure you check those out!
Last but not least, there's still time to grab 13 FREE e-books and enter for a chance to win 13 signed paperbacks (including The Warm Up)!
But how, Xio? It's easy!
A few of my uber-talented New York Times and USA Today bestselling friends and I have decided to run an amazing giveaway that lets you try one book from each of us! Why? Because I am confident that if you like my books, you will like these as well. Why not GET TO KNOW some other authors?! Aaaaand…everyone who enters to receive our books will ALSO be entered to win 13 signed paperbacks – one from each of us (see below!)
Seriously? This is the biggest win-win EVER!
TO ENTER:
1. LIKE my Facebook page: www.facebook.com/XioAxelrod
2. FOLLOW me on Amazon: https://www.amazon.com/Xio-Axelrod/e/B00JCFOOHY
3. CLICK HERE to enter!
**All entrants will receive links to the 13 free e-books the week of May 29. The links will come via each author's individual newsletter.
**The winner of the 13 signed paperbacks (see below!) will be announced on May 29.
**Open internationally.
GOOD LUCK!!!!