Welcome to another Fox Friday, my lovelies! Today, we have the delightful Kimberly Kincaid with us again, this time with her new release DEEP BURN. This is book two in her smokin' hot Station Seventeen series. Sexy firefighters, y'all!
Here's a bit about the book…
Firefighter Shae McCullough is all-in, all the time. When her reckless response at a fire earns her a two-week penance filing paperwork for the arson investigation unit, the rules and routines are enough to bore her senseless. But the discovery of a possible arson at a murder scene has her instincts fired up, and when Shae is assigned to assist Remington's elite intelligence unit with their investigation, she's all too ready to jump in with both boots first.
To tech and surveillance expert James Capelli, logic isn't just a job requirement, it's a way of life. He's less than thrilled to work with Shae, whose impulsiveness threatens his sanity and whose curves threaten his composure. Despite their differences, they uncover a case bigger than anyone could have expected—along with an attraction that burns deep.
But this killer is no stranger, and Capelli's got a dark past. Can he and Shae outsmart a ruthless murderer, or will his secrets bury them both?
I love this couple already. 🙂 Kimberly was sweet enough to give us an excerpt, fam! Grab a glass of wine and dig in.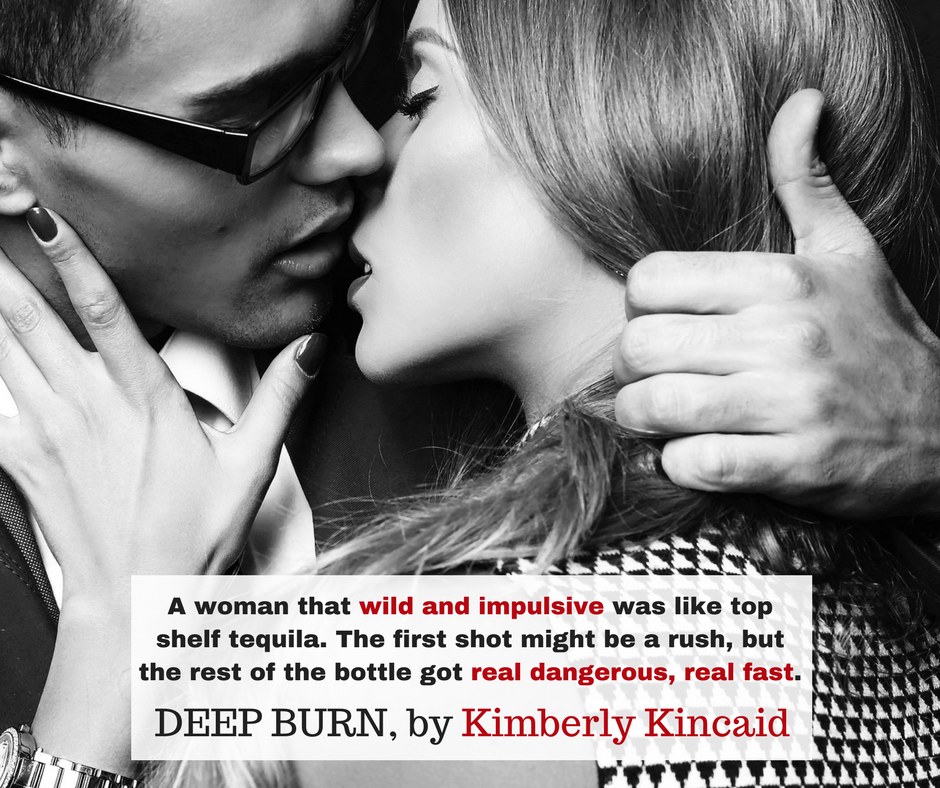 "We should probably stop meeting like this, you know," Shae said, her legs taking a step toward him before her brain recognized the command to move.
Her blood flared hotter when he didn't take a step back to counter it. "Us running into each other is purely coincidental," he replied. "I didn't even know you shopped here."
"Relax, Capelli." She laughed. "It was a joke." At his continued lack of a smile, she added, "Because we've run into each other unexpectedly twice in one day."
"Oh. Right, of course," he said, still going no joy on a smile.
Rather than backing down, though, Shae tried again to get him to loosen up. "And actually, I don't shop here, but I was out for a walk and I got hungry, so…"
She gestured to the small grocery cart behind her, filled with a stack of frozen dinners, a six-pack of ginger ale, and the king-sized Hershey bar she'd been craving all damned day.
"So here you are," Capelli said. "Unexpectedly."
Shae's pulse quickened, a deep pull of attraction spearing through her belly at the way his eyes had flared over the last word. Between helping each other at scenes from time to time and all hanging out at the Crooked Angel after hours, the cops in intelligence and the firefighters and paramedics at Seventeen knew each other both professionally and socially. A hookup or two had been known to go down between the group of friends—hell, Isabella and Kellan had even moved in together. Shae might have a pretty hard and fast rule against extra-curricular relationships with her fellow firefighters, but as she stood there on the linoleum looking at the hey-now angle of Capelli's shoulders beneath that jacket and the serious/seriously sexy look on his handsome, clean-shaven face, she had to wonder why the hell she'd never slept with him.
Then again, with the way his stare had just lingered on her mouth for a second longer than was cordial, she could probably remedy that gaffe right. Now.
"So what do you say we trade this six-pack of ginger ale for a six-pack of beer and go heat up a couple of these mealsicles together?" She let her smile hang between them for just a beat, then tacked on, "I'll even give the spaghetti and meatballs a shot."
"I'm not sure that would be such a good idea."
Surprised, Shae paused. "You never know. It might be fun."
Now it was Capelli's turn to pause. "I'm sure it would be a lot of fun, actually."
"What's the matter, Capelli? Aren't you a fun kind of guy?"
The tight spot between her legs filled with nine kinds of heat at the idea of just how much fun might be lurking under all that controlled composure of his. Again, his eyes lowered to rake slowly over her smirk, and oh God, how could she feel him so much when he wasn't even touching her?
Shae closed the rest of the distance between them save a scant inch, completely uncaring that they were smack in the middle of the frozen food section. "I mean, we're not exactly strangers. It seems kind of silly for us to spend Friday night alone when we could be having a little fun, don't you think?"
"I think…"
Capelli trailed off. Lifting one hand, he brushed the pad of his thumb over her bottom lip. The hot, unfettered sensations from the contact stunned Shae into place, turning her breath into a soft gasp and her nipples into aching peaks. He reversed the path of his thumb, the teasing, barely there touch making her sex clench. She parted her lips under his attention, pressing forward with every intention of letting him kiss her senseless right there in the grocery store, when the clack clack clack of shopping cart wheels filtered in from the next aisle over.
Just like that, Capelli's head whipped up. Yanking his hand from her lips as if she'd scorched him, he stepped back swiftly to regain a full bubble of personal space.
"I'm sorry," he said, his expression neutral and his brown eyes as cool as the freezer case behind him. "I really can't. Have a nice night, McCullough."
He turned on his heels to walk a precise line toward the end of the aisle and out of Shae's line of vision, leaving her more turned on and pride-stung than ever as she stood there trying to figure out what the hell had just happened.
*****
Ahhhhh! I need this right now, don't you? You can grab a copy of DEEP BURN on Amazon  B&N  and  Kobo. And Kimberly has a fun giveaway happening right now on her Facebook Author Page.
Kimberly Kincaid writes contemporary romance that splits the difference between sexy and sweet and hot and edgy romantic suspense. When she's not sitting cross-legged in an ancient desk chair known as "The Pleather Bomber", she can be found practicing obscene amounts of yoga, whipping up anything from enchiladas to éclairs in her kitchen, or curled up with her nose in a book. Kimberly is a USA Today best-selling author and a 2016 and 2015 RWA RITA® finalist and 2014 Bookseller's Best nominee who lives (and writes!) by the mantra that food is love. Kimberly resides in Virginia with her wildly patient husband and their three daughters.
Catch up with Kimberly on…
FB reader group: https://www.facebook.com/groups/247994838672060/
BookBub: https://www.bookbub.com/authors/kimberly-kincaid
Amazon author page http://amzn.to/29Z3LU8
Facebook author page: www.facebook.com/authorkimberlykincaid
Twitter: www.twitter.com/kimberlykincaid
Instagram: www.instagram.com/kimberlykincaidauthor
Pinterest: www.pinterest.com/kimkincaidbooks
---
Coming soon from Xio…
As a nineteen-year-old, wunderkind doctoral candidate, Ian Waters had little interest in social interaction. Books were his companions, and that had suited him just fine. Then a hurricane named Jessen Sørensen blew into his life, throwing Ian off his axis.
On the cusp of rock stardom, Jessen had burned brightly, and Ian had fallen heart-first under his spell. But Ian soon learned he was only a temptation, a pit stop on the road to the rocker's dreams, and Jessen was gone as quickly as he'd come. Ian buried his heartache in academia, the only home he'd ever known.
When Ian encounters Jessen at a party, the seven-year separation seems insurmountable. There's too much pain, too much distrust. But Jessen declares he has a new dream, and that's a life with Ian.