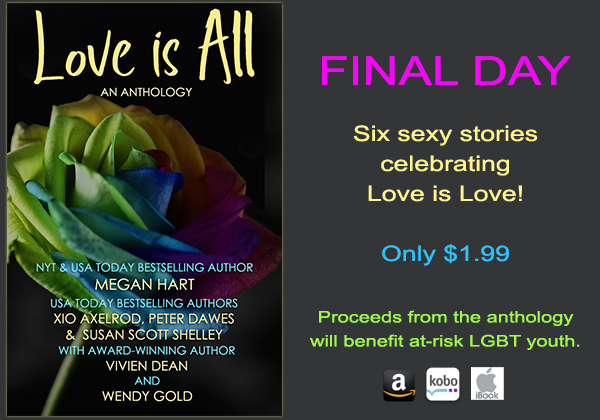 Hello, my lovelies!
Pride month may be over, but you still have one last chance to grab LOVE IS ALL!


Includes novellas from New York Times and USA Today Bestselling author Megan Hart, USA Today Bestselling authors Xio Axelrod, Peter Dawes, and Susan Scott Shelley, award-winning author Vivien Dean, and a brand new short story from Wendy Gold.
Proceeds will be donated to the leading national organization providing crisis intervention and suicide prevention services to lesbian, gay, bisexual, transgender, queer & questioning (LGBTQ) young people under 25.
It's the FINAL day to grab this lovely collection.
Grab LOVE IS ALL before it's gone!
🌈 
This weekend, I'm heading down to Norfolk, Virginia for the SEXY AND SASSY SIGNING. This year's theme is "Pirates and Sirens." It will be a weekend filled with great fun and amazing people. 100 authors are expected to be there. Come join us!
☠
🧜‍♀️
🧜‍♂️
☠ If you still need GA tickets ==>http://bit.ly/SaSS18Tickets
or check out the pinned post in the SaSS Facebook Group.

See you soon!
Xio oxo