My lovelies! I'm excited. Can you tell? This week, not only am I able to introduce a debut FoX to you but also a debut author! I've known Sophia Soames for about two years, though we only met in person earlier this year. Sophia was just as delightful as I thought she would be, and she is a hell of a storyteller. I'm so glad she took the plunge into publishing.
Before we get to her debut release, Little Harbour, let's learn a little about Sophia herself! I spoke with her while she had a layover in Baltimore's Inner Harbor. 😀
I'm so excited to have you here, luv. Grattis!
Takk!!! Thank you so much for having me, it's a huge honor to be a guest on your blog!
How long have you been writing?
I started writing two years ago, just finding my feet with short fan fiction pieces that slowly started to build a little following. Spurred on by the feedback, I came up with more and more ambitious ideas that piece by piece turned into what is now a full length novel.
Do you have any must-buy authors whose books you just have to have?
I am a massive fan of  British author Alexis Hall. He is an incredibly talented writer, with a very poetic style to match, and his stories have all the feels. I also love Lily Morton, for her British snarky romance and Scandinavian author Roe Horvat who writes beautiful love stories that make me a little bit homesick.
What do you do in your other life?
My real life is incredibly high-flying, in a non-glamourous way. I work as a air cabin crew member for a large airline, which means I jet around the world a few times per month. It's the best job in the world. Not only do I get to meet some incredibly wonderful and interesting people, but the time off when I am away from my family is spent doing what I love the most…..writing and shopping!
Having traveled so extensively, if you could live anywhere in the world, where would that be?
I moved to the UK in my twenties, for the opportunities that a large and multicultural city like London could offer me carreer wise. Simon Le bon might also have been an influencing factor. Ahem…. I never got to marry him, instead I met my husband, bought a house, and settled with three very gorgeous children an Au pair, and now we are getting a puppy. Or two. Life is very busy when I am at home! I hope one day to move back to Scandinavia, to give the children a taste of what life can be like at a slower pace with less pressure, and a healthier lifestyle than we lead in a busy city.
I know he answer to this question, of course, but tell my lovely readers what inspired you to write Little Harbour?
Little Harbour came about after reading Olav H. Hauge's poem It's the Dream. It was one of those small 'wow!' moments, reading it and suddenly forming a very clear picture in my head of what he might have imagined when he wrote it. Of realizing that what you had always been looking for was suddenly right in front of you. A place in your life of calm and contentment, where you could just be.
Like you, Xio, I was also a huge fan of the Norwegian TV series SKAM, and the characters' – Even and Isak's – story line, which captured Scandinavia during ten tense, angsty weeks of watching Isak grow from a boy to a man and find the love of his life. It made the perfect backdrop for the fan fiction version of Little Harbour, that has now been polished, edited, hugged, and given a good dose of love to emerge as Little Harbour, the novel.
Aww, I love it. Yeah, SKAM was a huge influence on my writing. It's what drove me to finally publish my first MM romance. The first of many to come. 🙂
What is your book about?
It's a second-chance love story about a man who had given up all hope, and another who never gave up. Jens lives a life of chaos after losing his wife of twenty years, struggling to manage his every day life and his four children. Axel, on the other hand, lives alone and works more than he should. A chance web search reunites these two and throws them into an adventure of parenting, running a Midwifery blog, a tale of a stolen pram, and a very ill advised stint on TV. It's a tale of life and death, of love and family, and of finding a little harbour that you didn't know was there.
I love, love, loved the version I read online. I can't wait to see what you've done with it. SKAM influenced so many people in so many ways. Have you had a chance to watch any of the other iterations: France, Germany, etc?
I am slowly catching up with them. The Dutch version showed massive potential with a great cast of young diverse actors, using the original story line as a guide to fit into the European way of life. The German version, Druck, was amazing; again with a gritty talented young cast and an on-point story line. SKAM Italy has caught up this season and is by far the first one that could threaten to topple the Norwegian version at the top. Filmed in dark muted colours, showing off the Italian glossy lifestyle amongst a graffiti ridden backdrop, its cast are pulling of an enchanting and engaging real life, gritty drama.
I am enjoying Skam Italia. I haven't had a chance to check out the others yet, but they're in my queue. What was the biggest challenge in making the transition from fanfiction to original fiction?
Finding good proofreaders and editors who were not only willing to take a chance on me, but who also understood what I wanted to achieve and were honest and brutal where needed. I like perfectly imperfect stories, where the characters have flaws and make mistakes. Humans are complex and I wanted to make sure I didn't make my characters stereotypical, and yet they had to be funny, honest and most of all real. My fan fiction stories didn't have much to do with the original TV series to start with, apart from the setting and names, so adjusting the story to its own universe was simply fun to write.
I can imagine! How will you celebrate your debut release?
I will have a vacation from the laptop! I have promised my family to have a laptop free Christmas. Let's see if I can keep that promise!
What advice would you give to another author who's on the fence about publishing their first book?
DON'T PANIC!! And do your research! I looked at my favourite authors, and the books that had a similar feel to what I wanted to achieve, then I contacted the editors and proofreaders they had used and discussed what I needed. It's all about trial and error until you find 'your people', that you feel comfortable with and trust. After that it's a long hard run of editing until you are almost blind to your own story. It's an amazing feeling once you press that publishing button, almost like euphoria, until the first ARC reader gets back to you pointing out some random typo you have missed, throwing you into a tailspin of panic. Don't panic. Everything can be corrected. Phew!!
Haha! Great advice. 🙂 What can readers expect from you next?
I have a few older stories that are just begging to be dusted off and given some TLC, but I am also working on two new ideas, so no doubt there will be a new novel in 2019. The Scandinavian Comfort series will be a series of novels, all set in Scandinavian cities, exploring M/M love stories with a lot of hygge and fika and all those things us Scandi's love. There will be a little angst and guaranteed HEA's. Sometimes with a little twist, but hey, that's the Scandinavians for you.
I think everyone will fall in love with Jens and Axel, and your writing. Can't wait to see what you do next!
---
This is a story about life and death, because there was never anyone else for Jens. He had been with Sofie almost all his life, from the day they met at school when they were fifteen, until the day she took her final breath against his chest. She was always everything to him. As he was to her. He never doubted that. Not for a minute.
This is an adventure of hope, where Axel Kleve keeps himself too busy to even stop and think. Work, sleep, eat, repeat. He loves his job as a Midwife at Oslo's University Hospital, He's good at lecturing and training, and now he has somehow been pushed into running "Ask Axel," a midwifery blog on PNN.no, the parenting-site everyone in Norway trusts.
This is a tale of second chances. Jens, he doesn't let himself think of Axel. He doesn't think of Axel at all. And Axel needs to stop longing for that one crush he's never been able to leave behind. It's just plain ridiculous. He should have got over Jens Sommerfeldt years ago.
A M/M novel full of love and family life, featuring a hoard of feral children, a stolen pram, a Midwifery blog and an ill-advised stint on TV. Oh yes, and a man who had lost hope and another who never gave it up.
A snippet from Little Harbour…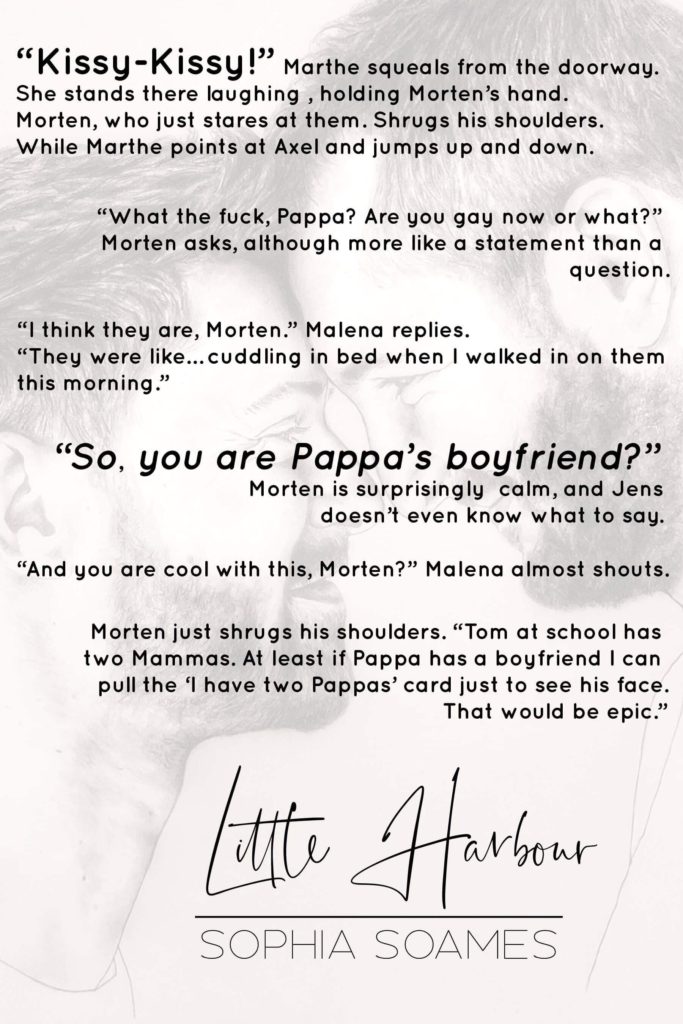 ***
Order a copy of Little Harbour today on Amazon and Amazon UK.
---
About the author…
Sophia Soames should be old enough to know better but has barely grown up. She has been known to fangirl over TV shows, has fallen in and out of love with more pop stars than she dares to remember, and has a ridiculously high-flying, (un)glamourous, real-life job. Her long suffering husband just laughs at her antics. Their children are feral. The AuPair just sighs.
She lives in a creaky old house in rural London, although her heart is still in Scandinavia. Discovering that the stories in her head make sense when written
down has been part of the most hilarious midlife crisis ever and she hopes it may long continue.
Catch up with her on Facebook, Twitter, and Instagram.
A giveaway message from Sophia!
"Come and enter a super chilled Scandinavian style laid back competition. Just sit back, follow me on social media if you wish, and enter to win a cozy, Little Harbour inspired  'Hygge' pack featuring a Little Harbour printed tea towel and an Amazon $10 gift card. And it wouldn't be Scandinavian without FIKA, so I will throw in a $5 Starbucks gift voucher too. How is that for a relaxing prize? Competition ends December 22nd, and three (yes 3!) lucky winners will be drawn to win a Hygge pack each. Good luck!"
---
Check out our gorgeous cover for MIXTAPE: A Love Song Anthology! The collection is coming to you on January 29th, and the pre-order is just 99¢ on:
Amazon, Apple Books, Barnes & Noble, Kobo, and Google Play.
Join our Facebook Group and enter to win some fabulous prizes!!
#mixtape #99cents #coverreveal