It's the time of year when everyone reflects on the last twelve months and the twelve to come. We also get a lot of 'best of' lists, which can be awesome – for me at least. I miss so much during the year, and they serve as checklists of sorts.
Last year, I threw together my yearly faves at the last minute. This time, I wanted it to be something more comprehensive. Something a bit different. Here are my choices for films, albums, TV shows, and books, and those that I felt didn't get enough love in 2018.
I started off the year anxiously awaiting the wide release of the screen adaptation of one of my favourite novels. When Call Me By Your Name was finally released, I was not disappointed – at all – by the film. It was sumptuous, languid, and gave me the feeling I'd had a brief, passionate, Italian love affair. I was, however, left with a general sense of malaise after I'd seen the movie two or three times. I don't go to the cinema often, and didn't know what else could tempt me to venture out. (Aside from Black Panther, of course.) I needn't have worried. 2018 delivered big time.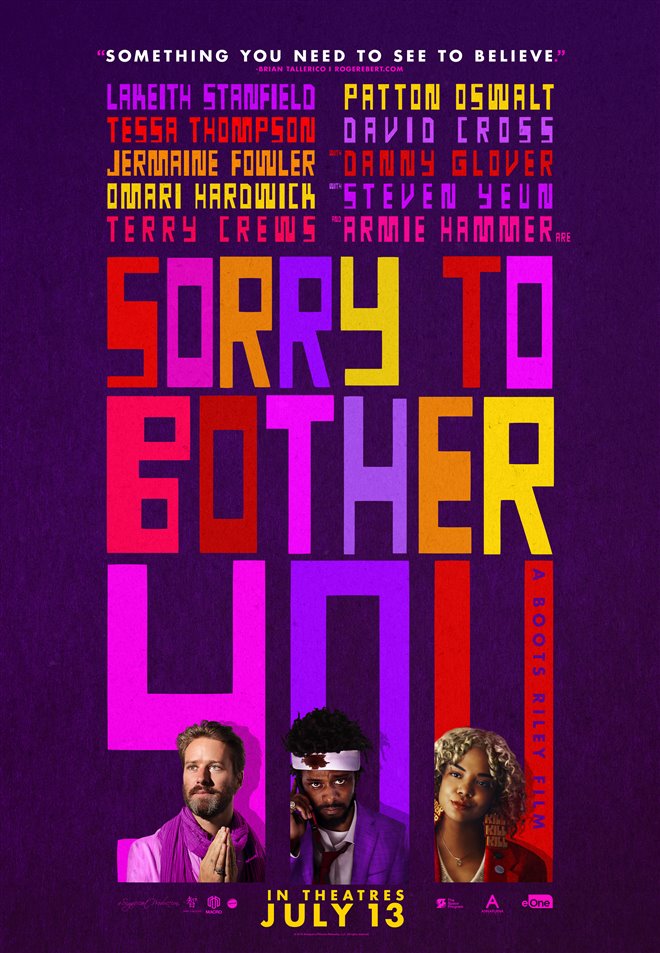 The Film That Not Enough People Saw:
Sorry to Bother You is an impossible-to-categorize movie that caught me completely off-guard from the very first teaser.
I can't tell you much about it without giving away its secrets, but please PLEASE watch this film when you can. It's brainy, wacky, sardonic, and so very topical in today's political and socio-economic climate.
Lakeith Stanfield (Atlanta, Get Out, Selma) is brilliant as Cash, an under-employed salesman trying to work his way up the ladder. And my celebrity BFF, Armie Hammer (Call Me By Your Name, The Man From U.N.C.L.E., On The Basis of Sex) is eerie as a psychopathic CEO who… Wait, I can't tell you any more. Just see it.
Other faves included Esteros, Crazy Rich Asians, Thelma, Love, Simon, Avengers: Infinity War, Incredibles 2, and Roma. And, yes, I know there are a lot of films missing from my list (Widows, A Quiet Place, The Favorite, The Bird Box, Aquaman, etc) but I haven't seen them yet. They're in my queue.
2018 was a wild one for music. After taking Hollywood by storm in Hidden Figures and Moonlight, Janelle Monae dropped the bomb that is Dirty Computer, channeling everyone from Prince to Michael Jackson to Lauryn Hill. The album is celebratory, in-your-face, and dares you to question her unparalleled talent. People shouldn't sleep on her as an artist any longer. And if you fall in love with these songs, go back and check out her earlier releases. I've been an FANdroid since the beginning, TYVM.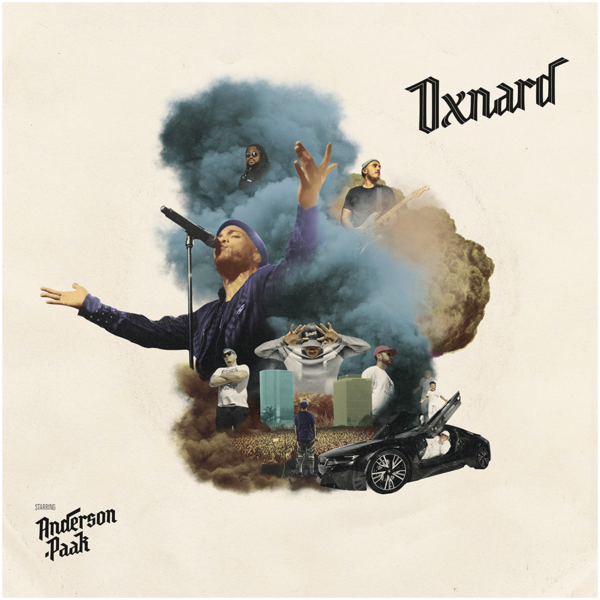 The Album That More People Need to Hear:
Oxnard, by Anderson.Paak, is funky, toe-tapping, old school soul filtered through the lens of 21st century, West Coast Hip Hop. Like Janelle Monae, Anderson .Paak's giant personality shines through in this collection. He is lyrically clever, and rhythmically hypnotizing. And he knows how to write a hook. Seriously, I don't understand how Tints didn't become the song of the summer. Ah, well. Get this album in your ears.
Other faves include Forever Neverland ( MØ ), Beerbongs and Bentleys (Post Malone), Art of Noise (Metric), MARS (MARS), and A Modern Tragedy, vol. 1 (grandson).
Most of the television I watch is on my DVR or on Netflix. I rarely catch anything live, and often not even the week it aired. I have a few exceptions like Outlander, The Walking Dead, and Game of Thrones (though not recently, since it WASN'T ON! Ahem.) I like genre TV. I like comedy with a bite. This probably explains why I have two picks in this category.
Two shows that more people need to watch.
The Good Place shouldn't work. It really shouldn't. A horrible woman dies and accidentally ends up in "the good place" where she clearly doesn't belong. It's paradise, everything she could have ever wanted, except it isn't. There's something not-quite-right going on, and she just may be the reason. Kristen Bell is wonderful, but this is truly an ensemble-driven show. If there is a standout for me, it's D'Arcy Carden, who plays the AI, Janet. She's freaking brilliant, particularly this season. I DVR this and watch it the morning after.
My record-and-binge show this year was Killing Eve. Holy crap, is it good. I didn't know what to expect. The teasers were wickedly funny, and it's Sandra Oh. I mean, I'd watch her do pretty much anything. If you're a fan of Luther, Orphan Black, or any of those head-twisting BBC dramas, you'll love this. It has humour, wit, and pulse-pounding action. Oh, and kick-ass women. This show has it all!
There were so many incredible books released in 2018, including The Ones Who Got Away by Roni Loren, Tikka Chance on Me by Suleikha Snyder, The Kiss Quotient by Helen Hoang, What If It's Us by Becky Albertalli and Adam Silvera, It Takes Two by Jenny Holiday, Sin and Tonic, by Rhys Ford, Song of Blood and Stone by L. Penelope, Riven by Roan Parrish, and A Princess in Theory by Alyssa Cole. So many that I haven't even had a chance to finish my TBR list, which I know includes gems like The Bashful Bride by Vanessa Riley, Scoring the Player's Baby by Naima Simone, and Her Perfect Affair by Priscilla Oliveras.
The book that more people need to read, though, is Sinner by Sierra Simone.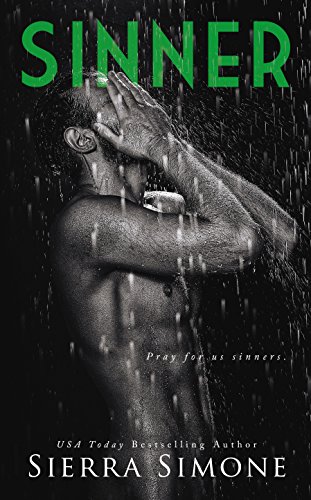 Sierra snagged me a couple of years ago with the first in this series, Priest, about a man of the cloth named Father Tyler Bell whose…shall we say…appetites are awakened by one of his parishioners, Poppy Danforth. I'll be honest, I wanted to hate the book on the premise alone. But I learned a valuable lesson about the power of storytelling to take you outside your comfort zone and alter your perceptions. Sierra's very good at that and she's done it again with Sinner, in which we get to know Tyler's brother, Sean.
Sierra excels at erotic prose. Her ability to marry the profane and the holy is sublime. This book delivers on that but it also introduces such complex, compelling characters that I sometimes forget that these aren't people I knew from another lifetime.
Luckily, you don't need to read Priest to enjoy Sinner. It's a standalone, and it does absolutely stand on its own. And if you have a chance to grab the audio book, DO. IT.
---
Looking forward, 2019 promises to deliver even more delicious distractions like Helen Hoang's The Bride Test, The One You Fight For by Roni Loren, Fumbled by Alexa Martin, Rebel from Beverly Jenkins, and The Wedding Party, by Jasmine Guillory, to name a few.
I admit, I'm not as excited about Captain Marvel as I probably should be, but I look forward to seeing it, and to finally being put out of my misery when Avengers: Endgame releases. As far as 2019's theatrical releases, I'm most looking forward to Glass and John Wick 3.
Expect new music from Rihanna, Cezinando, Lady Gaga, Childish Gambino, The Chemical Brothers, The Cure, The Strokes, James Blake, Sierra Hurtt, The Weeknd, Missy Elliott, and more.
I'm both looking forward to and dreading the return of Game of Thrones. I'm not ready for it to end. 🙁 I feel the same about Jessica Jones and the Punisher, knowing they'll both likely be cancelled. But Luther, Brooklyn 99, and Killing Eve are all coming back, so yay!
As for me, I'll greet the new year and all of the new challenges it promises to bring with enthusiasm. I hope your 2019 is full of joy and laughter. I know it'll be full of great entertainment. 🙂
Happy New Year!
Xio