Happy FoX Friday, my lovelies! It's been a little chilly here in the writing cave, but I have something that will warm us all up. Today's FoX is my dear friend R.L. Merrill, and she's here with her brand new release from Dreamspinner Press, Typhoon Toby. Before we meet Toby and Spencer, let's learn a little bit more about our fabulous author in this delightful interview. Read on for a chance to win a $10 Amazon GC!
Hiya! Congrats on your new release.
THANK YOU! I'm stupid excited about this book. It will hopefully make you laugh, cry, push your buttons (both the happy ones and the uncomfortable ones) and leave you feeling satisfied at the end… maybe even ready to take in a tap class, go see a show, or donate to your choice of mental health awareness/LGBTQ support programs!
Absolutely! Did you always want to be a writer? If not, what else did you want to do?
There may have been a time when I was in elementary school when I wanted to be a writer. A few years ago, my mom pulled out a bunch of my old school work and there were some short stories in there that were actually quite funny. Even back then I wrote weird shit.
Haha!
But no, in college I wanted to be a therapist, and then switched to History teacher. I went to grad school three years later to earn my master's so I could do school counseling. Through an internship, I ended up working in the police department as an advocate for victims of domestic violence. The department I worked for wanted me to apply to be an officer, so I did. I passed the test and interview with flying colors… but I literally couldn't get over the damn 6-foot wall during the test.
Oh no! (facepalm)
I'd been practicing for weeks with female officers and I even tore my pec trying. So, I went home and said, "hey, babe? Let's have kids instead." Here I am, a 25-year veteran educator, and I still don't know what I want to be when I grow up. Writing stories with happy endings that deal with real-life issues and emotional struggles has fulfilled me like nothing else. So yeah, I'm going to keep writing but never grow up.
And we're so glad to hear that. 🙂 What does the area where you write look like?
I'm a guerilla writer. I write in the car, at the pool while the kids have practice, on my phone freezing my ass off at a horse show, in the library, in a local eating establishment that has plentiful Diet Coke on hand…At home I usually have at least one cat and a dog on me.
Okay, name three authors (living or dead) who you'd like to sit down to dinner with and pick their brains.
Already had dinner with you and looking forward to doing it again when we can get in more trouble. Instead of Boogie with Stu, it will be Trouble with Stu.
Oh, you can count on it! 😉
Stephen King, Anne Rice, and Sherilyn Kenyon. All three of them have had a profound impact on my development. King scared the shit out of me and made me think about good vs evil and the gray area within. Rice took my love of history and monsters and weaved them into worlds that I wanted to get lost in. Kenyon taught me all about tortured and flawed characters and how even the seemingly unredeemable can be loved.
I'd love to be at that dinner party. I know you love music. Who are some of your favorite bands/artists?
So many! My metal trifecta is Metallica, Slipknot and Korn.
Nice, nice.
I was a mod kid in high school so I have a soft spot in my heart for Depeche Mode, Oingo Boingo and the Cure. I spent two years living with a guitar player who gave me an undying love for all things rock, especially Judas Priest, Black Sabbath, and Led Zeppelin. My daughter and I bonded over the metalcore/emo scene over the past 12 years giving me love of Bullet For My Valentine, Motionless in White and In This Moment. Currently I'm jamming to new albums by Papa Roach (who just keeps getting better with age), Beartooth and Bring Me The Horizon. Best shows I've seen in the past couple of years include Foo Fighters, Ghost, Halestorm, and Panic! At The Disco.
So jealous! I've never seen the Foos live.
I spent the last year grooving to funk and soul with Typhoon Toby, and then Spanish-language music for my most recently finished novel including Alvaro Soler, Rodrigo y Gabriela, and Rosalía. How's that? Eclectic enough for you? Here's my playlist link for Typhoon Toby: https://open.spotify.com/playlist/6imlyzVuBmOfa0rzDSEf86
Ooo! I love playlists curated by my friends. I'll check it out! Readers, leave a comment below telling us your favourite musical, favourite style of dance, or favourite song that describes your love life. One lucky commenter will win a $10 Amazon gift card from R.L.!
Switching gears, tell me your favorite pick up line, and did it work on you or for you?
OMG pick-up lines? I can't think of a favorite pick-up line, although I love hearing the cheesy ones. But I can tell you a funny story that will make you question my sanity. My husband and I met when I was 13, started dating when I was 26, and we've been married 20 years in October of this year!
Wow, that's impressive! Congratulations. 🙂
Back in high school, his best friend lived next door to me. They were two years older and loved to torment me. My name is Rochelle and my husband started calling me Rock. At this time, the Rock of Gibraltar Bank had a very famous jingle that played constantly… Get a piece of the… You get the picture.
LOL! Oh no…
And I still married him despite the fact he used to sing that to me all the time. Also, our first date he had two credit cards declined (he'd just graduated law school and had moved, so bills got lost) and yet I still married the guy. Good thing I did. He's my best friend and partner in crime.
A match made in heaven. 🙂 If your life were a movie, what would it be rated (G, PG, PG-13, R, NC-17)?
I'd have to say NC-17 simply because of my raunchy sense of humor, the music I blast at full volume, the crazy shit my husband and I talk about, the fact my daughter says us Romancelandia folks are all "horny old ladies on Facebook." And my language lands somewhere south of sailor and truck driver. My poor kids. The therapy they're going to need. It's terrible having a mom who frequently shouts "that's what she said."
Haha! Your family sounds awesome. So when can I visit? 😉 How do you relax at the end of a long day? Do you? LOL!
Um relax? What's that? I have two teenagers, one bathroom, a dog and two cats, I'm a teacher… I write. That's how I relax. Or going to rock shows.
I hear ya. So, what can readers expect from you next?
Typhoon Toby and Worst Valentine's Day Ever both dropped this week. In June I'll have a novella out with the FoXy Lady herself (that's me!)as well as a paranormal project that I'll be announcing soon. End of summer/early fall I'll have my next Dreamspinner Press release called Summer of Hush, which follows a metalcore band making a comeback on the road with a popular tour. The first book features an adorably psychotic frontman and the reserved and sweet music blogger he's crushed on for years. I can't WAIT for everyone to meet Silas and Krish, and after that I'll be writing more in the Forces of Nature series and the Summer of Hush series for 2020! Phew! In there somewhere I'll breathe, I think, while downing record levels of chocolate and Diet Coke.
Let's learn more about the book…
On the surface, Toby Griffiths appears to have it all—talent, money, a brilliant mind, and model good looks. With his best friend, Reese, he's built an empire as a singer/songwriter.
But beneath that glittering exterior, Toby suffers the lasting effects of abuse. To keep his tempestuous past where it belongs, he insists on anonymity with lovers—no names, no personal information. But a vacation fling in Bali changes all that, and he can't get his recent playmate out of his mind.
Therapist Spencer Hart left Bali with a bad case of pneumonia and a broken heart. Although he's recovering, he's shocked to find his secretive partner on TV, and he's determined to see him again. Spencer arranges to attend one of Toby's fundraising galas, and their reunion is tense.
Toby tries to stick to his rules… until a New Year's kiss with Spencer washes away the last of his resistance. But Toby is a man with secrets, and when the storm comes ashore, it could devastate not just his professional life but his fledgling love affair and his longtime partnership with his best friend.
Will Spencer stand by his side and help him weather the storm as Toby faces his worst fears?
*****
R.L., you brought an excerpt for us today. Right?
Here's a fun bit! Spencer, Toby's love interest, has been filling in as the choreographer's assistant for Reese and Toby's musical, The Boy on the Corner, a 1960s, Sinatra-esque show based on Reese's grandfather's experiences. It's time for Jesse to showcase the choreography for Reese and Toby and she has Spencer and a bandmate of her husband, Julian, stand in. Toby and Spencer have had quite a bit of tension between them since reuniting after their vacation fling. Here's what happens when Toby sees Spencer dancing with another man.
---
Jesse said to Danny, "Take it from the top of the second movement."
And it was time.
Spencer's stomach was in knots as they began a very athletic combination. They took off their tap shoes and shared glances over their shoulders as part of the routine. Julian moved to Spencer's side, and he moved away. They continued to play a cat-and-mouse game around the "bed" until Julian slid across it and sat in front of Spencer with his legs spread. He grabbed for Spencer, who backed away and then turned and fell to his knees, his hands covering his face. Julian did a complicated dismount from the table, crouched behind Spencer, and wrapped his arms around him from the back. They slowly stood together, as Julian moved his arms into position, and then Spencer kicked out his legs. Julian held him suspended there for a moment, and then Spencer wrapped his legs around Julian's.
Julian didn't even strain under Spencer's weight. He hadn't strained at all since they learned how to do it properly. He spun them around a couple of times and stopped at the table, where Spencer let his legs slowly slide down and finally uncovered his face. He glanced down at the table and braced himself as Julian slowly bent him forward and pressed against him from behind. Halfway down, Spencer began to resist, and they wrestled for control. At one point he had Julian on his back and appeared ready to bend down for a kiss, but then broke away. Julian flipped them over and, theoretically, at that point the boy finally allows himself to give in to the passion, and they kiss. In rehearsals they always stopped at that point because Jesse was trying to be respectful of her assistants. But today, for whatever reason…. Maybe it was the audience, maybe he was caught up in the moment, but Julian gave Spencer a scorching look and then laid a wet kiss on him.
Spencer heard a gasp, and then a few things happened—Reese broke out in enthusiastic applause, Danny shouted "what the fuck are you doing, dude?" and Jesse approached them with her hands on her chest.
"That was amazing. Wow. I can't believe—"
"I'd like to suggest a few changes, if I may?" Toby said as he passed Jesse on his way toward the men on the table. Julian had left Spencer lying there dumbfounded and stepped back to make room for Toby. Toby grabbed Spencer's hips and yanked them toward him, bringing their torsos together forcefully with Spencer's legs spread.
"At this point he's won the seduction, so he has to take a moment to enjoy the spoils."
Spencer gasped as Toby ran two fingers down his chest and abs and farther—
"I think that's enough." Spencer shot up and scrambled to get away from Toby. He stood to the side of the table and ran his hands through his hair, hoping no one in the room noticed his problem below the belt. "I think you have what you need. I've got to go, Jesse."
He turned and forced himself to walk slowly enough that it didn't look like he was running for the door, but he failed miserably. He grabbed his coat off the rack and took off out of the studio. Spencer ran down the hall toward the stairs, his chest tightening up, but he stopped at the top.
He'd left his shoes.
Should he run off barefoot and call Jesse later, like a coward? Should he go back inside the room and play it off with some stupid comment?
"I believe you forgot something."
Toby stood just outside the door with Spencer's shoes dangling from his long fingers. "You seem to lose your shoes a lot when I'm around," he said with a sly smile.
Irritated with these little games, Spencer marched over to him and reached to snatch his shoes away, but Toby pulled his hand back, causing Spencer to crash against his chest.
"Did you like the way he kissed you?"
Spencer's eyes widened. "No." The answer came out before he even took a second to think about it.
"Good. I didn't like it either."
Before Spencer could protest, Toby pulled him in with his free arm and kissed him—hard. Like teeth-knocking-together hard. Toby grunted at the impact and then moaned and pulled Spencer even closer.
Spencer tried to push Toby away—he needed a moment of clarity—but Toby dropped the shoes on the floor and wrapped his other arm around Spencer, trapping him. He pushed them up against the wall and ground his pelvis against Spencer as their moans became more desperate. Toby grabbed a fistful of Spencer's hair and yanked his head back so he could take the kiss deeper. Spencer was drowning in lust and in his feelings for Toby. He was confused, angry, hurt, and turned on at the same time—not a great combo. When he tried to push away again, and Toby refused, he bit Toby's lip hard enough to draw blood and force him to step back. Instead of being angry, Toby just smiled and licked at his lip.
"I always love it when you bite."
"I have so many things to say to you right now," Spencer began, his anger coming to the surface. "I don't want to play games, Toby. I don't understand what you're doing."
"I'm being an idiot," Toby said with a laugh. "Haven't we already established that? That I'm a fool? A natural disaster? I couldn't stand watching him touch you like that… or kiss you." He moved closer again and gently caressed Spencer's face. "You move beautifully. That was one of the most erotic dances I've ever seen."
Whew! Wonderful excerpt from the hardest working woman in publishing, right there. You can grab Typhoon Toby at Dreamspinner Press or on Amazon. Thanks for squeezing in time to talk to me today, R.L.!
THANK YOU SO MUCH, Xio, for having me! Stay Tuned for more Rock 'n' Romance from R.L. Merrill.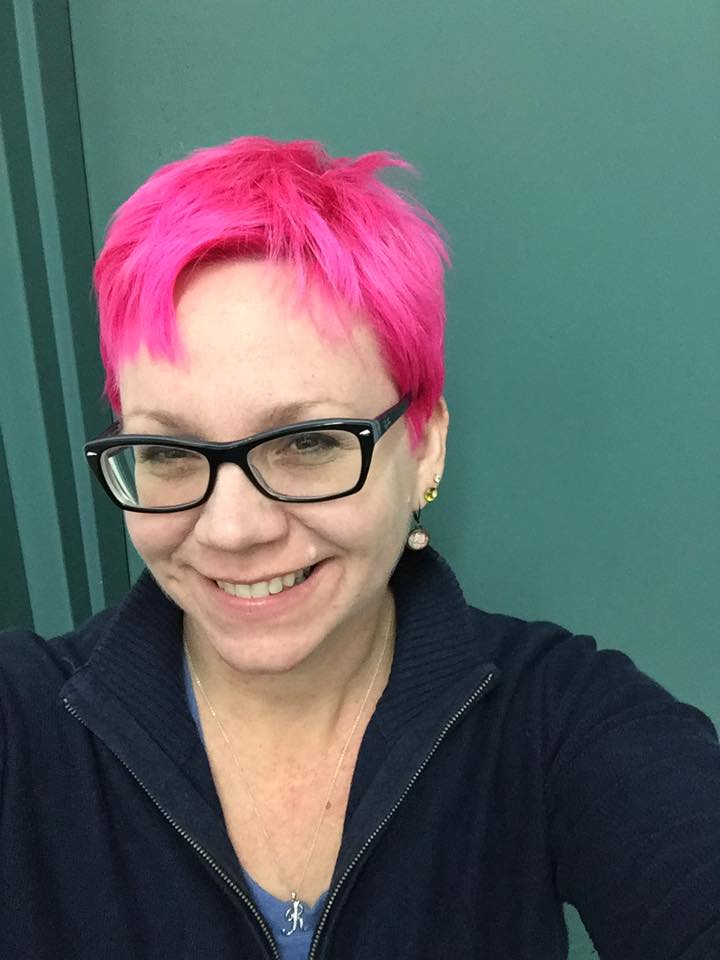 Once upon a time… a teacher, tattoo collector, mom, and rock 'n' roll kinda gal opened up a doc and started purging her demons. Several books later, R.L. Merrill is still striving to find that perfect balance between real life and happily ever after. You can find her lurking on social media where she loves connecting with readers, educating America's youth, being a mom taxi to two busy kids, in the tattoo chair trying desperately to get that back piece finished, or head banging at a rock show near her home in the San Francisco Bay Area. Catch up with R.L. on Facebook, Twitter, Instagram, or on her website.
---
MIXTAPE: A Love Song Anthology drops next week!
FEATURING twelve brand-new stories from bestselling and award-winning romance authors Elle Kennedy, KL Kreig, Leslie McAdam, Lynda Aicher, Mara White, Marni Mann, Nikki Sloane, Rebecca Shea, Saffron Kent, Sierra Simone, Veronica Larsen, & Xio Axelrod, all inspired by love songs, with a foreword from Laurelin Paige.
Pre-order still available on:
Amazon, Apple Books, Barnes & Noble, Kobo, and Google Play.
Join the FACEBOOK GROUP. Add to your to-be-read shelf on GOODREADS. Listen to the PLAYLIST on Spotify. Pre-order on APPLE BOOKS.
Text mixtape to 21000 to receive pre-order alerts.