Hello, my lovelies!
One year ago, I put together an anthology to celebrate Pride month and to raise money for a worthy LGBT+ organization. I had such a great group of authors, who all donated amazing stories. It was such a wonderful experience that I decided to do it again!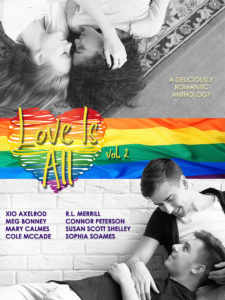 LOVE IS ALL – VOLUME TWO is out in the world, and it is 99 cents for a very limited time!
The anthology includes novellas and short stories from USA Today Bestselling and award-winning authors, including Meg Bonney, Susan Scott Shelley, R.L. Merrill, Connor Peterson, Sophia Soames, Cole McCade, and Mary Calmes, plus an absolutely stunning foreword by Roan Parrish .
My contribution, When Frankie Meets Johnny, is a peek into the mind of a character that I've been living with for a couple of years, now. And, yes, I will be expanding the story later on but I hope you fall in love with Frankie as I have. His voice is a departure for me, to be certain.
Proceeds from this year's anthology will be donated to an LGBT community center in Philadelphia.
Featuring:
Sugar Crush by Susan Scott Shelley
When horror novelist Jack Kramer is guilted into joining his best friend's softball team, he's not expecting to come face to face with the inspiration for his next novel. But one look at Gabriel Spencer, and his muse is off and running.
Bakery assistant Gabriel abhors anything with blood and gore, but he's intrigued by Jack and agrees to help the sexy author. He's not expecting the white hot attraction that builds every moment they are together, or how to handle dating someone who pushes him so far outside his comfort zone.
Happiness versus horror, sunlight versus shadows, early riser versus night owl, the men couldn't be more different. Opposites attract, but are they too dissimilar to write their own happy ever after?
_____
What if it all goes right? by Sophia Soames
Carl Morelli has landed his dream job as airline crew, and should be perfectly content with his life. If it wasn't for the fact that he's in love with his best friend's girlfriend.
Pup Armitage is in love with his best friend. He tried to tell him and it ended up costing him their friendship.
And Mila Naesvik just shakes her head at the two men she loves more than anything else in the world. It's a risk to try to get this mess they have landed themselves in all straightened out, but then, what if it all goes right?
An MMF novella set in the airline world where lines are blurred and feelings are more confusing than they should be.
________
Pinups and Puppies by R.L. Merrill
Marianne Cross has lived a life of structure and purpose for the past twenty-four years. Now reluctantly retired from the Air Force, her life is missing those two things that have always defined her. As she struggles to decide where her future lies, she finds peace and solitude flying her vintage airplane. When an opportunity with the organization Pawsitive Flight comes along, allowing her to combine flying with a purpose, she's interested in the possibilities—especially those concerning the owner of Goth Dog Rescue, Dinah Shaw. She's tough, beautiful, and she makes Marianne want things she hasn't allowed herself to want in a long time.
Flying rescue dogs to their furever homes may give Marianne new purpose, and even a home of her own in the process…if she's willing to risk her heart on a little fly-by-night romance.
________
When Frankie Meets Johnny by Xio Axelrod
Scottish ex-pat Frankie Llewellyn lives and breathes music. Working late nights at WKMP, a radio station in suburban Philadelphia, he can play what he wants, sleep in every morning, and no one gives him any grief. No one but his most recent ex-boyfriend. Frankie is a serial monogamist, but after this latest break-up, he's worried he'll end up alone with nothing but his records to keep him warm at night.
When the station hires someone to do some much-needed renovations, Frankie is horrified to find out the work will be done during his overnight shift. But it makes the most sense, so he's resolved to take one for the team. After he meets the mysterious contractor, a gorgeous, lumberjack of a man named John Burton, Frankie decides it may not be such a hardship after all.
John is reserved, and a bit mysterious. Quite the contrast to Frankie's drama-filled life. But, as their friendship grows, John's quiet presence has Frankie singing a new song.
________
Just One Look by Mary Calmes
At forty-four, Rick Warner called it quits on love. Nothing sticks, and after the last disaster, he's decided to focus on the family and friends that love him, flaws and all. Why ask for trouble when he's settled into a comfortable rut?
Dash Ruston is an actor shooting towards superstardom when a freak meeting in the woods knocks him off kilter. He knows a knight in shining armor when he meets one even one with some salt in his pepper…Their differences can't hide the possibility of a blockbuster happy ending.
________
The Gentleman Attraction by Connor Peterson
Emerson Mallory never mixes business and pleasure. His eyes might wander but he certainly wouldn't risk his professional reputation over a tryst. Not even for a silver haired scoundrel who clearly knows his way around a bedroom and makes his heart race with just one look.
When a flirtatious train ride turns into a weekend in close quarters, Bennet Clarke doesn't agree that it would be best to leave their attraction at the door. He gave up worrying about human sensibilities the night he became a vampire centuries ago, and right now he wants more than one taste of Emerson's charm and unnerving ability to see past his cavalier masks.
Their host has a few secrets of their own and a madcap plan that requires Emerson to enlist Bennet's help. When the inevitable happens, Emerson begins to think that maybe Bennet's way of looking at things isn't so bad. Bennet, however, is faced with a dilemma. Keep up the ruse, or confess that Emerson has no idea who he's gotten involved with.
Amidst the flurry of activity surrounding their host, the two men will have to keep their affair secret, plan a successful party, and decide if forever is too much to ask.
_________
Tell Me More by Meg Bonney
In this modern retelling of Grease, Adam and Chase try to turn their summer love story into a fall relationship, because love like theirs only comes once in a blue moon!
Adam Daniels just had the best summer. When he wasn't belting out showtunes to the adoring resort guests, he was in the arms of Chase Sanders, the boy who fixed the cars at that the seasonal lakeside resort. They were hopelessly devoted from day one.
As the world's most perfect summer came to an end, Chase got on a plane to go home and Adam went back to school with a broken heart and tears on his pillow. What the couple didn't know was that a change in plans would put Chase at the very same school as Adam that fall!
Adam and Chase's perfect summer romance will be put to the test as they realize that summer nights and school days are vastly different things in the world of young love.
And
Criminal Intentions: In Bloom by Cole McCade
________
Buy LOVE IS ALL: Volume Two while it's still only 99 cents!
Available at: Amazon, Kobo, Barnes & Noble, or iBooks.
Join us on Facebook: https://www.facebook.com/loveisallromance/
Add LIA to your Goodreads shelf: https://www.goodreads.com/book/show/46116300-love-is-all