Hello my lovelies!
It's been a minute since I reached out to you. The summer was a busy one, and autumn looks much to be the same. All good things, though. Lots of new characters and worlds for you to fall in love with.
In the meantime, I've received quite a few messages about When Frankie Meets Johnny and whether or not it would be made available as a standalone. Wonder no more!
Originally published in volume two of the Love Is All anthology, When Frankie Meets Johnny will be available on October 1st!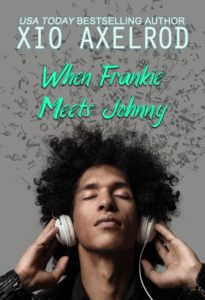 Scottish ex-pat Frankie Llewellyn lives and breathes music. Working late nights at WKMP, a radio station in suburban Philadelphia, he can play what he wants, sleep in every morning, and no one gives him any grief. No one but his most recent ex-boyfriend. Frankie is a serial monogamist, but after this latest break-up, he's worried he'll end up alone with nothing but his records to keep him warm at night.
When the station hires someone to do some much-needed renovations, Frankie is horrified to find out the work will be done during his overnight shift. But it makes the most sense, so he's resolved to take one for the team. After he meets the mysterious contractor, a gorgeous, lumberjack of a man named John Burton, Frankie decides it may not be such a hardship after all.
John is reserved, and a bit mysterious. Quite the contrast to Frankie's drama-filled life. But, as their friendship grows, John's quiet presence has Frankie singing a new song.
Pre-Order When Frankie Meets Johnny now on:
Amazon – http://bit.ly/AmazonWFMJ
Kobo – http://bit.ly/KoboWFMJ
Barnes & Noble – http://bit.ly/BarnesWFMJ
and Apple Books – http://bit.ly/XioWFMJ
---
Don't forget, Xio will be at the EAST COAST AUTHOR CONVENTION next weekend, October 4th-6th, in Langhorne, Pennsylvania. A limited amount of tickets are still available!