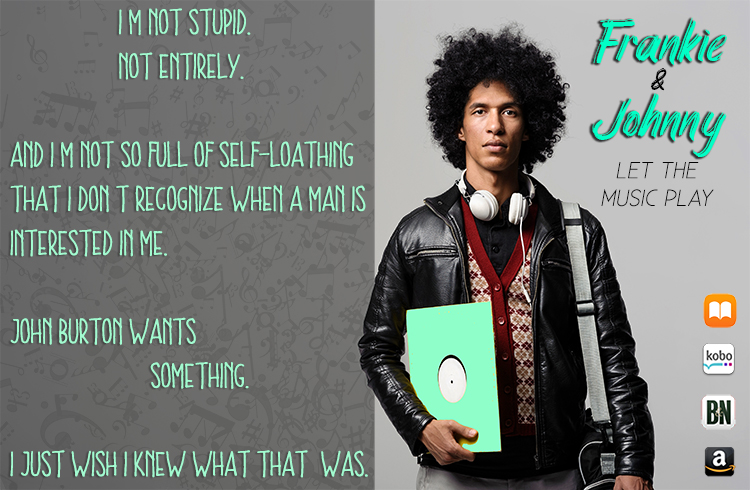 Hello my lovelies! It's a very special day for me. Frankie and Johnny: Let the Music Play is out in the world.
Not only is it their book birthday, it's also MY birthday. Yay!
As my gift to you, here is an excerpt!
"It's not much," I say as we step into my flat. "The girls went to a club and won't be home 'til the wee hours."
"You have roommates?" John's eyes scan the living room, which is unusually tidy.
Okay, yes. I'd tidied it up before I left home. Just in case.
My style could be called dormitory chic, my flat furnished with a collection of mismatched pieces acquired over the life of my residency. Some of it, like the tiny kitchen table and chair set, have been here since before I ever arrived. But the parlor has high ceilings, which gives it the impression of space and makes the collection seem eclectic rather than haphazard.
"They sublet the front bedroom from me," I explain, flicking on lights as I go. It takes six lamps to fill the room, one of the downsides of its twelve-foot ceilings. Even with white walls, the light barely reflects. "They do their thing, and I do mine."
"So, not close, then?" John settles on the couch and looks up at me.
"Not at all. Wine?" I offer. "Beer?"
"Beer, if you have an IPA."
"I do." I grin. "Be right back."
The large, overstuffed couch is the primary source for seating. Along the opposite wall is where I keep my personal collection. LPs, CDs, and rare box sets, both vinyl and digital. My Technics turntable occupies the place of honor where a television might sit. I have a telly, but it's in my room. I didn't want to have to argue with the girls, or anyone else, about what to watch.
When I return with two cold bottles of brew, I find John flipping through my record collection.
"I hope you don't mind," he says, reading the back cover of a Police album.
"Not at all," I say. I've never been one of those people that doesn't let others touch their prized possessions. As long as they're gentle, it doesn't bother me.
"You have a lot of eighties music here," John observes. "I guess you weren't kidding about the whole birthright thing."
"I was not." I hand John his beer and take a look at the record in his hand. "God, I love that album." It's Zenyatta Mondatta, one of the most underrated albums of that decade.
"I don't think I've heard it," John admits. "The only Police songs I know are Roxanne and Every Breath You Take, which is super fucking creepy if you ask me."
"Right?" I smack my thigh. "Totally mental! It's downright stalkerish. Wherever you go, I'll be watching you. Really sick shit." I take a pull from my beer as John nods in agreement.
"I think my parents had that as the first dance when they renewed their vows."
"Fuck," I mutter. "Did they not read the lyrics?"
John laughs, his hot, malty breath filling my lungs when I inhale. "I doubt it. My mom had dubious taste in music."
"What were they like, your parents?"
John looks thoughtful for a moment. "Kind," he says. "Not nice, I mean of course they were nice, but being kind is different than being nice. Does that make sense?"
"It does," I reply, recognizing the trait in their son. John is kind. And nice. More than that, he is genuine. "Do you want to hear it?"
"What?" My question brings John back to the present.
I nod toward the album in his hand. "The best fucking record you've never heard."
He grins, handing it to me. "Blow my mind, Frankie."
It takes me no time to cue up the first song, Don't Stand So Close to Me.
We talk through most of the track as I explain how the band hated the record and were rushed to get it done it before their next tour.
"Of course, it won two Grammys," I tell him. "Shows what the fuck they knew."
"Yeah, really."
We go quiet as the album progresses, content to be in each other's company, sharing a beer and a sofa. I love this, sharing music like this, and there are few people on the planet with which I can do it.
John really digs the second song, Driven to Tears.
"One of my favorite political songs," I tell him.
The following track has one of the fattest grooves I've ever heard on a rock record, but I don't say anything to John when it begins.
"Damn," he says, when the bass line kicks in and looks over at me.
I nod. "I know."
He grins, his expression softening as he studies me.
"Fuck," he exhales the word.
"What?"
Someone left a bolt of cotton fabric at my place long ago, and it's found new life as a tablecloth, though it actually only covers a diamond-shaped area of the surface. Very shabby chic, the girls tell me. It almost looks like I did it on purpose.
This is what runs through my mind as John puts his bottle on the red and white patterned cloth. He turns to me, pulling his knee up so he can face me.
"What?" I practically squirm under his gaze.
"Nothing, I just…" He exhales slowly and takes my hand. "I really like you, Frankie."
I grin. "I really like you too, Johnny. Wanna go steady?"
I laugh, but John doesn't. "Yeah, I think… I think I kinda do."
---
Whew! What do you think, are you dying to know how they get along? I hope you'll celebrate my 21st (wink, wink) birthday with me, and show my boys some love.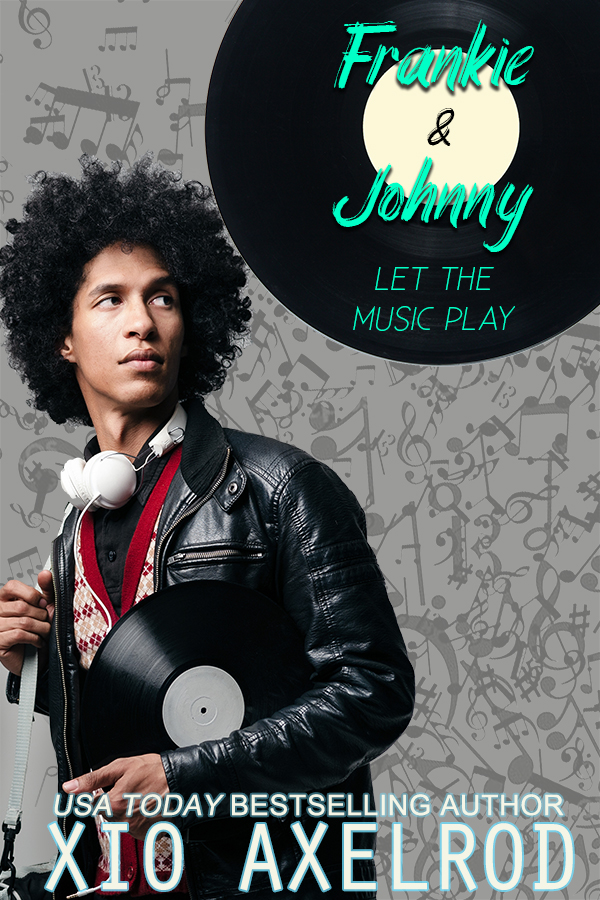 John Burton has Franklin Llewellyn humming a new tune.

After a messy break-up, Frankie thought he'd never find someone that really got him, especially his unique relationship with music. His ex called it an obsession, but it goes well beyond that. Music is Frankie's lifeblood, and he's always struggled to explain it.
Then John Burton crash-landed into Frankie's world. Attentive, curious, and supportive, he's everything Frankie's ever wanted.
Frankie doesn't know what it is about Johnny, but that he can't stay away. Being with him is like listening to his favorite album on repeat. Johnny becomes as much of an addiction as Frankie's beloved vinyl collection, but their budding relationship proves to be just as fragile.
When things between the pair shift from friendship into something more, Frankie finds himself overwhelmed by emotions he's never experienced. He worries he's in over his head, but it doesn't stop him from taking whatever Johnny is willing to give.
As wonderful as Johnny is, he's clearly hiding something. It's an errant note in an otherwise perfect melody. The late-night texts and phone calls that Johnny won't fully explain leave Frankie feeling adrift. Alone in an emotional freefall.
When Frankie discovers a secret from Johnny's past, it's a record-scratch moment. Can Frankie look past it and continue their duet? Or is he destined to go solo?
Grab a copy of Frankie and Johnny: Let the Music Play at:
Amazon, Apple Books, Barnes and Noble, or Kobo (coming soon)!
---