The Calum
2015 Readers' Pick – Books to Read After Outlander
Winner: 4th Annual Swirl Awards – Best New Adult Romance
Honourable Mention: 2015 Readers' Favorite Awards – Contemporary Romance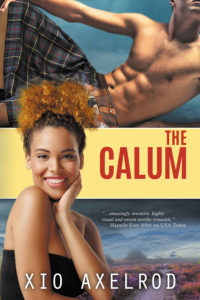 Calum (Noun)
1. fictional hero of best-selling romance novel, A Laird to Love
2. the perfect man
Twenty-six is too old to believe in fairytales, but tell that to Lovie's roommate. Convinced she'll find a real life version of her ultimate book boyfriend, Calum MacKenzie, Jo drags Lovie to the Scottish Highlands. Lovie's no cynic *ahem* but she knows The Calum is a myth. A construct. A freaking unicorn! And there are warmer places to spend her winter vacation.
If Duff had his way, he'd never step foot in Inverness again. Only his best friend's wedding, and his ailing grandmother, could bring him home. Duff's plan is keep his head down and stay out of trouble. Hard to do when the groom targets a  pretty blond tourist for one last conquest.
When Duff and Lovie meet, stones, sparks and insults fly. He's instantly attracted to the sexy, sharp-tongued American. She's just glad to have someone to hang out with, especially the bad boy with a mysterious past. Lovie is determined to learn his secrets, but as they grow closer, Duff is forced to choose between his best friend and his heart.


Available on:
Amazon
Audible
Barnes and Noble
iBooks
Kobo
Audible
iTunes Audio Books
Praise for The Calum:
Publisher's Weekly: Axelrod's novella is a short, fast-paced contemporary romance with a witty heroine and a lot of heart. Lovie just wants to spend her Christmas vacation on a beach somewhere, but when her best friend, Jo, wins their annual coin toss, the pair fly off to Scotland on a quest to find Jo a lover like Calum MacKenzie, the star of a series of romance novels. When Jo snares a very Calum-like charmer named Hamish in an Inverness pub, Lovie is thrown together with his best friend, "adorable bad-ass" Duff, whose tough image, doting grandmother, and soulful photography capture her heart. The four of them retreat to Hamish's estate for a steamy weekend, but when the women find out that Duff was helping Hamish conceal a major secret, the fragile trust between them is broken, maybe forever. Readers may be unimpressed by this overused plot device, but the rest of the book handily avoids cliché. Axelrod notes Duff's appreciation of biracial Lovie's brown skin and red hair while steering well clear of fetishization, and the contrasting slang of the Scots ("Tea awright?") and Americans ("Tea would be awesome") is charming.
HEA on USA Today –  "New author. Fresh story. Sexy contemporary romance at your fingertips. Xio Axelrod debuts with The Calum, a fun (and funny), fast-paced romantic read. There's poetry in motion when reading this story set in Scotland with brogues and customs to add to the experience. Warning: Once you start, it will be an all-out read-a-thon. Sexy, relatable characters who are seemingly ill-suited must overcome odds to find their cozy hub of happiness. Axelrod's style to reach that happy ever after or happy for now is amazingly inventive, highly visual and swoon-worthy romantic."
Readers' Favorite – "Xio Axelrod was a hoot and a half in terms of character and voice. I absolutely LOVED the dialogue and banter and simply thoughts inside characters' heads. I also wasn't expecting romance to be so much fun, and it really was. I found myself relating to both Lovie and Duff and I enjoyed their chemistry immensely. Five Stars."