---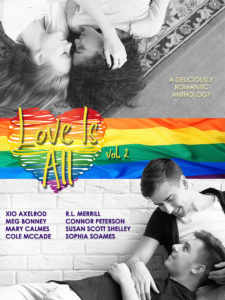 Love Is All – Volume II, eight wonderful stories, one great cause! The anthology includes short stories and novellas from award-winning and USA Today Bestselling authors, including Xio Axelrod, Meg Bonney, Mary Calmes, Cole McCade, R.L. Merrill, Connor Peterson, Sophia Soames, and Susan Scott Shelley, with a special foreword by Roan Parrish.
All proceeds from the sale of the anthology were donated to William Way Community Center in Philadelphia, PA, and LGBTQ+ advocacy group.

Featuring:

Pinups and Puppies by RL Merrill
Tell Me More by Meg Bonney
What If It All Goes Right by Sophia Soames
Criminal Intentions: In Bloom by Cole McCade
Sugar Crush by Susan Scott Shelley
When Frankie Meets Johnny by Xio Axelrod
The Gentleman Attraction by Connor Peterson
Just One Look by Mary Calmes

With a foreword by Roan Parrish.
"Five stars for the incredible When Frankie Meets Johnny. I went right out and found other work by Xio Axelrod. That good." Amazon Reviewer
Facebook: https://www.facebook.com/loveisallromance/
Goodreads: https://www.goodreads.com/book/show/46116300-love-is-all