Happy 2020, my darlings!
Can you believe we're almost a month into the new decade? I know for some of us, January has already felt like an entire year. (cough*romancelandia*cough) I hope the rest of 2020 goes more smoothly, and is filled with nothing but love and baby animals. 🙂
I was super excited to learn that Jeff Adams reviewed When Frankie Meets Johnny on episode 225 of the Big Gay Fiction Podcast.
As you know, WFMJ was the novella I wrote for volume two of the Love Is All anthology, which raised $1,000 for Philadelphia's William Way community center. And Big Gay Fiction Podcast was named to O Magazine's (that's Oprah, people!) list of "21 of the Best Book Podcasts to Listen to When You're Not Reading." So, I'm thrilled that Jeff enjoyed the story of how my wayward boys, Frankie and Johnny, find their way to each other. Check out the BGF Podcast on YouTube: [Read More…] about Happy (Belated) New Year!
Hello my lovelies!
It's been a minute since I reached out to you. The summer was a busy one, and autumn looks much to be the same. All good things, though. Lots of new characters and worlds for you to fall in love with.
In the meantime, I've received quite a few messages about When Frankie Meets Johnny and whether or not it would be made available as a standalone. Wonder no more!
Originally published in volume two of the Love Is All anthology, When Frankie Meets Johnny will be available on October 1st! [Read More…] about Back By Popular Demand!
Hello, my lovelies!
One year ago, I put together an anthology to celebrate Pride month and to raise money for a worthy LGBT+ organization. I had such a great group of authors, who all donated amazing stories. It was such a wonderful experience that I decided to do it again!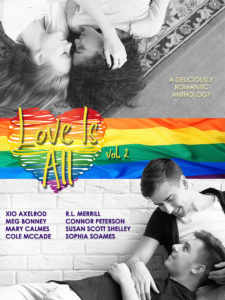 LOVE IS ALL – VOLUME TWO is out in the world, and it is 99 cents for a very limited time!
The anthology includes novellas and short stories from USA Today Bestselling and award-winning authors, including Meg Bonney, Susan Scott Shelley, R.L. Merrill, Connor Peterson, Sophia Soames, Cole McCade, and Mary Calmes, plus an absolutely stunning foreword by Roan Parrish .
My contribution, When Frankie Meets Johnny, is a peek into the mind of a character that I've been living with for a couple of years, now. And, yes, I will be expanding the story later on but I hope you fall in love with Frankie as I have. His voice is a departure for me, to be certain.
Proceeds from this year's anthology will be donated to an LGBT community center in Philadelphia. [Read More…] about Love Is All is here, and it's only 99 cents (for now)!