Hello, my lovelies!
One year ago, I put together an anthology to celebrate Pride month and to raise money for a worthy LGBT+ organization. I had such a great group of authors, who all donated amazing stories. It was such a wonderful experience that I decided to do it again!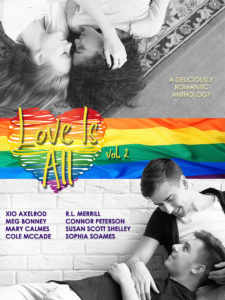 LOVE IS ALL – VOLUME TWO is out in the world, and it is 99 cents for a very limited time!
The anthology includes novellas and short stories from USA Today Bestselling and award-winning authors, including Meg Bonney, Susan Scott Shelley, R.L. Merrill, Connor Peterson, Sophia Soames, Cole McCade, and Mary Calmes, plus an absolutely stunning foreword by Roan Parrish .
My contribution, When Frankie Meets Johnny, is a peek into the mind of a character that I've been living with for a couple of years, now. And, yes, I will be expanding the story later on but I hope you fall in love with Frankie as I have. His voice is a departure for me, to be certain.
Proceeds from this year's anthology will be donated to an LGBT community center in Philadelphia. [Read More…]
Hello my darlings! First, the sad news – MIXTAPE: A Love Song Anthology will disappear next week. BUT, until then, you can grab it for only 99 cents, or check it out in Kindle Unlimited.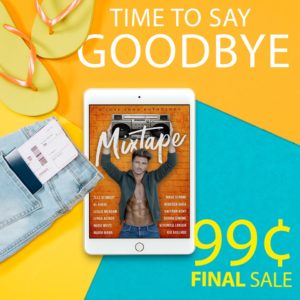 In happier news, tickets for Apollycon 2020 are now officially on sale. Grab yours now, this event sells out super fast!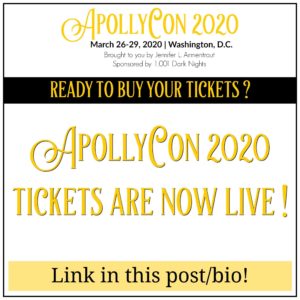 ApollyCon 2020 will be a 3-day reader event which will include two author signings, panels, multiple social events, and more!
This event features 150+ authors across YA, NA, and Adult romance genres, and is open to readers of all ages.
It will kick off with a Thursday Meet & Greet.
Friday will feature panel programming (in the morning), a 3-hour signing session (open to Titan pass holders), a Sparkler event sponsored by my friends at 1,001 Dark Nights, and a movie night hosted by my good friend, author Damon Suede (open to Titan and Apollyon pass holders).
On Saturday, there will be two general signing sessions (open to all ticket holders) with a break in between, and a PAJAMA PARTY to round out the evening.
Sunday will feature a closing keynote Q&A session with #1 New York Times Best Selling Authors J.R. Ward and Jennifer L. Armentrout!
For the most current author lineup, head over to apollyconevent.com/lineup.
See you there!
Xio xoxo