Hello, my lovelies…
We are living through some challenging times. The most vulnerable among us are in danger, and voices are struggling to be heard. People all over the world have come together to fight injustice, demand change, and express compassion, sympathy, and support.
And for all of the hate, vitriol, and tired rhetoric, there has been an overwhelming outpouring of love that warms my heart.
For the last two years, I've asked a few friends to come together for a cause and a celebration. June is Pride month in the US. The first edition of Love Is All was conceived as a way to celebrate the LGBT+ community and to raise money for an organization that served it. As individuals and entities seek to strip people of their basic human rights – simply because of how they self-identify, who they love, or the colour of their skin – it has become even more important to raise awareness.
We can do better and we must.
To that end, all proceeds from the Love Is All: Volume 3 will be donated to the Marsha P. Johnson Institute which organizes to protect and defend the human rights of Black transgender people.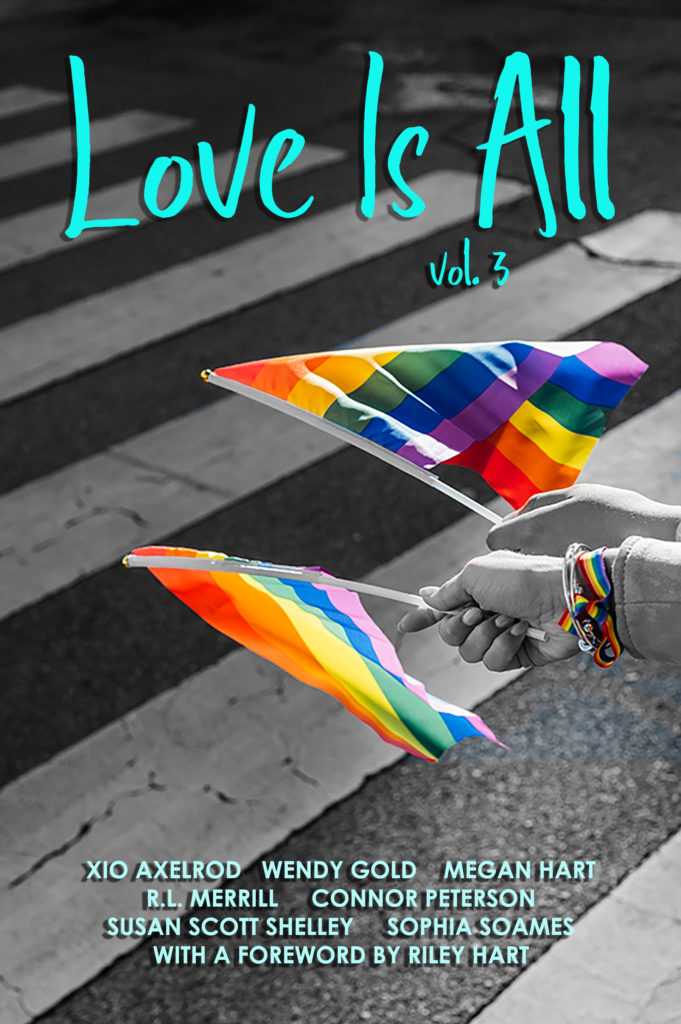 Love Is All: Volume 3 contains seven brand new novellas and short stories from bestselling and award-winning authors, including To Build a Home, a short story set in the Frankie and Johnny universe.
Frankie Llewellyn was never a big fan of love songs. They always seemed so unrealistic, all those unchained melodies and sunshine-filled cloudy days written by fools in love. When he suddenly finds himself living in a nineties power ballad, Frankie wonders if maybe those fools were onto something all along. One night he was spinning dark wave during his DJ shift at WKMP, lamenting the end of the latest in a string of mediocre relationships, and the next he was tumbling head-over-heels into an Elton John anthem.
John Burton is every sappy lyric come to life. Frankie wants to hold his hand, call him "angel" in the morning, and give him every beat of his heart. It's a little sickening how in love he is. Less than six months into the relationship, they're moving in together. And despite how easy it is to be with Johnny, Frankie can't help but to worry. His track record isn't the best, and they're really just getting to know each other. It's too soon, right? Maybe?
Frankie has no idea what he's doing. He's never felt like this before, and he's afraid. Can he really pull off a happily-ever-after? He's going to try, even if it kills him. Because if Frankie knows anything, it's that a life without John Burton would be nothing worth singing about.
The anthology also includes:
Pole Kisses by Wendy Gold
The Start of Something New by Megan Hart
Hands Off by Connor Peterson
Falling Faster by Susan Scott Shelley
and Custard and Kisses by Sophia Soames
Grab Love Is All: Volume 3 on Amazon US, Amazon UK, Barnes and Noble, Kobo, and Apple Books.
---
I'm also super excited to be participating in LOVE OVER HATE, an auction to benefit organizations that are fighting systemic racism.
More than one hundred romance authors have come together to stand in solidarity with the demands for change happening worldwide and to promote causes that are dedicated to affecting that change. This auction will benefit Fair Fight 501(c), an organization created by romance author and politician, Stacey Abrams, to fight voter suppression. The other 50% will go to the Color of Change. All donations will be made in George Floyd's name.
We hope you'll be inspired not only to support the auction, but to consider individual donations to our organizations and/or use the following links as helpful resources. FAIR FIGHT: https://fairfight.com/about-fair-fight/
COLOR OF CHANGE: https://colorofchange.org
Thank you, and Happy Pride!
Xio
Black lives matter.
Black Trans lives matter.