My lovely and talented friend, Jo Richardson, is back! She brings with her the shiny new cover for her upcoming release, Cookie Cutter.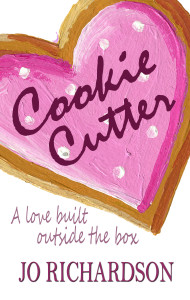 Iris Alden and Carter Blackwood couldn't be more different. Change-averse Iris likes her life neat and organized, while Carter's itchy feet mean he doesn't plan to stay in the same place for long.
When Carter moves into the house across the street from Iris, to renovate it, she fights the disruption it causes in her life. Before long, though, it's not simply the house Carter's rebuilding, but Iris's heart, too.
Yeah, I am so ready for this one but it won't be in my hot little hands until March 23rd. So I twisted Jo's arm (not really) and snagged an excerpt.