Hello, my lovelies! It's FoX Friday, and this week's guest is a first-timer. Help me give a hearty welcome to the delightfully talented Lena Hart! Lena is here with her upcoming release, Something New. It's book two of her Brides of Cedar Bend series, and you're going to want to grab it!
Before we get to know Damian and Savvy, let's learn a little more about Lena.
How long have you been writing?
I started writing on and off since 2009, with a lot of bad/unfinished projects in my arsenal, lol. But I had my first book published in 2012. So I've been writing for 8 years and published for 5.
What writing rituals help to get your mojo flowing so you can write?
It depends on where in the writing process I'm in, lol. But I have this thing where I need to have cartoons or Seinfeld playing in the background when I'm editing. Weird, I know.
Really? That's so cool! How do you balance writing and your personal life?
Ha! Balance, what's that?
I know, right? LOL
Honestly, that's still a work in progress for me, but I do my best writing at night so I schedule my writing time around then.
Do you have a one-click or must-buy author whose books you just have to have? [Read More…]
Hello, my lovelies! I hope the season is treating you well, wherever you may be. Today, I welcome my friend Susan Scott Shelley back to Fox Friday, this time with her newest release ENAMORED. It's the third book in her Game of Love series. If baseball is your kink, and you love smart, sexy romance, then this series is for you. ENAMORED is a baseball romance double-header. Two stories in one!
​
After a Spring Training stunt saddles Liam York with a broken ankle, the League's Best Mascot is forced to share the spotlight with the team's solution: a temporary friend for Fin the Shark. But his new co-worker tests the limits of his control.
Claire Devereux spent years caring for her siblings and is more than ready for some fun. She loves every aspect of being Fin's new friend Fiona and is determined to make the temporary gig permanent.
As romance blooms between their on-field personalities, Liam and Claire give in to their passion off the field too. But curve balls from every direction test whether they're better as a duo or if it's every mascot for him/herself.
Meanwhile…
​
First baseman Slade MacInnes has a lot of balls in the air. His contract is expiring, he's just found his birth parents, and his agreement to do some work with a children's charity has led him to the very sexy and sweet Savanna Soto.
​
Savanna works hard granting wishes to kids with life-threatening illnesses, something her sister never lived to experience. Slade's no-fear attitude and adrenaline-junkie adventures make her want to break out of her self-imposed safety bubble and live.
​
Slade figures he's just the man to help her conquer her fears. Each activity draws them closer together with an attraction that sizzles. But when life pushes their differences to a head, will fear win out or can love save the game?
Susan was nice enough to bring us an excerpt from chapter two, when Claire meets Liam for the first time. Check it out!
SIZZLING SUMMER FREEBIES!
Hey, my lovelies! I have a treat for you as you head off on your summer holidays. You can fill your e-reader for free! That's right. Free.
FALLING STARS is one of thirty books you can grab for free this week.
Sam is an honorable man. He has been faithful to a toxic, Hollywood marriage for nearly half his life. He's never strayed and isn't about to start now, despite the fact that he is falling head over heels for his co-star.
Val's worked hard to get her career on the path to the A-list and the last thing she wants, or needs, is a scandal. If only her heart and her brain were working with the same script. Romance is an ideal. This is a love story. Falling Stars explores the possibility of second chances and asks hard questions about duty, fidelity, life in the public eye, and the cost of being happy. This is the beginning of a sexy, sensual, and emotional roller-coaster ride that reminds us that love, while not often easy, is always worth it.
Get it FREE on Amazon, iTunes, Kobo, and Nook!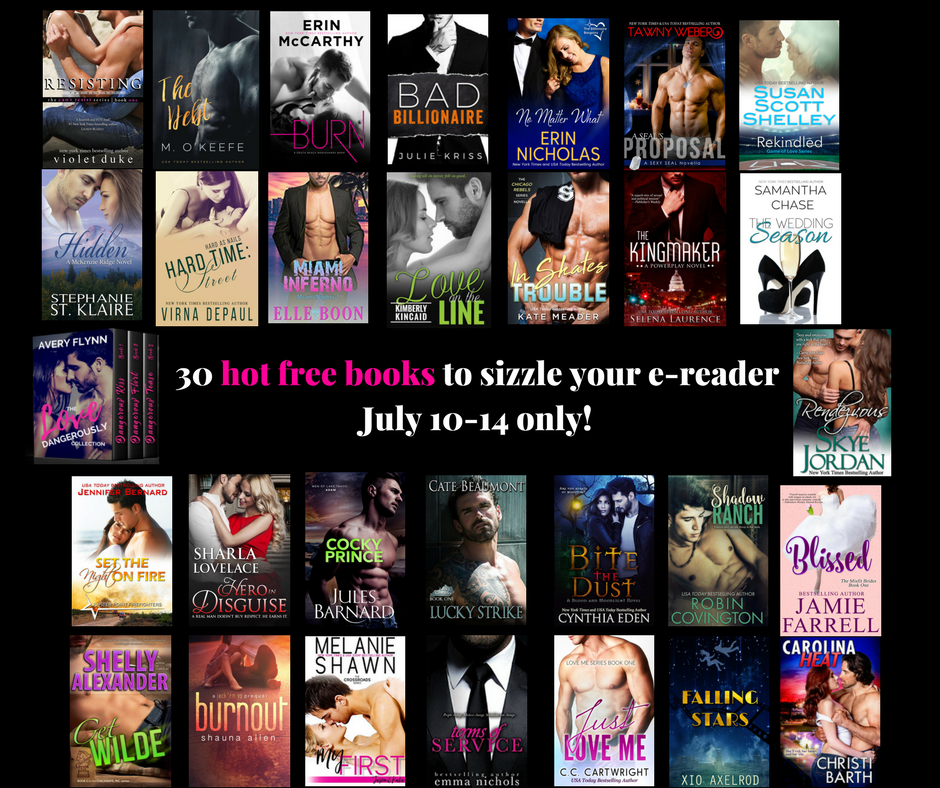 All of these AMAZING books are free from July 10th to 14th! Follow these awesome authors to learn about their new releases!