Welcome to another installment of Romance Writers Weekly! Elizabeth Janette wanted to know what was on our TBR (to-be-read) lists. Did you just pop over from Betty Bolte's? I'm sure your reading queue grew after checking out her post. As for me, my TBR shelf on Goodreads has 123 titles. You read that right. One. Hundred. Twenty-three. Wait…124. No, 125. Dammit! You see my problem. I read a lot. A lot a lot. If it weren't for my e-reader, my house would look something like this…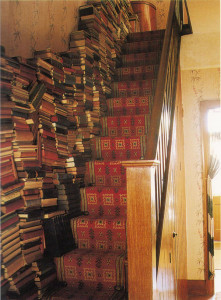 When I'm not on a deadline, I read between 3 to 5 books a week. Mr. X thinks I am crazy and he would be right, lol.
Without further adieu, here are the next fifteen ten five books in my reading queue:
I'm 25% into UNEXPECTED EDEN: a sexy and unique, fantasy romance by fellow RWW (and debut) author, Rhenna Morgan. Most people believe Eden no longer exists. Lexi Merrill's about to learn they're wrong. A hard-working bartender with a self-sufficient backbone and a wary nature, she knows pickup lines like a second language. So, when Eryx Shantos barges into her world with too-smooth words and a body to back it up, she locks up her libido and vows to keep her distance.
I normally read two books at once. I just finished a beta-read for a friend, so now I'll dive into FLIRTING WITH THE COMPETITION by another debut-author (and fellow Tasty Tuesday curator!) Kerri Carpenter. Under normal circumstances, Whitney March might have appreciated sharing an elevator with a ridiculously attractive and clearly wealthy guy. Even enjoyed it. But when her companion turns out to be the man who almost ran her over in parking garage moments earlier? Nope and nope. Besides, she's on her way to a job interview at a prestigious law firm, and she needs to stay focused. Not staring at the rich and sexy jerk. Then the elevator comes to an abrupt stop. They're stuck.
Whew! Is it steamy in here yet? Next on my list is AGNES MOOR'S WILD KNIGHT by Alyssa Cole. This book was recommended to me by friend, author, and Tasty Tuesday cohort, Kim Golden. Kim's never steered me wrong and, judging by the synopsis, this will be one wild ride indeed. Agnes Moor knows her place in the court of King James IV—as one of the "exotics" in his employ. When the king makes a kiss from Agnes the prize of a tourney, a mysterious knight plows through his opponents to claim it. But it isn't chance. The Wild Knight has come for her, and her champion is after after the most elusive prize of all: her heart.
The story sounds so unique! I'm really looking forward to this one.
I'll follow this up with FIX YOU by another RWW author, Carrie Elks.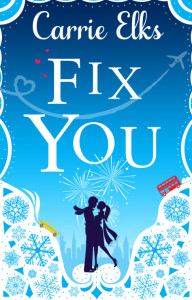 You've found the one, but what if life has other plans?
London, 31st December 1999
At a party to toast the new millennium, Hanna meets Richard. He is a gorgeous, wealthy New Yorker. She is a self-assured, beautiful Londoner with no interest in clean-cut American men. They are from different worlds and have nothing in common… except for their instant – and mutual – attraction to one another.
As the clocks chime midnight it is a new year and the beginning of a wonderful romance.
New York, 12th May 2012
Hanna, the girl who broke Richard's heart, walks into his Wall Street office – and back into his life – to reveal an explosive secret.
He was sure they were meant to be together forever, but she broke his heart so completely the last time, can he find a way to let her mend the pieces?

This book is getting fabulous reviews, and it's tempting to jump right into it, but I have a two-book at a time rule. If I try to juggle more than that, I feel like I'm missing important details in what I'm reading. That's not fair to the authors or to me, as a reader.
The last of the five that I'm sharing with you today is THE SHELL COLLECTOR by Hugh Howey. If you're not familiar with his work, let me tell you that this tale of romantic suspense is not his usual fare. I've been a fan of his for a number of years and when I ran into him at last year's annual conference for Romance Writers of America, I was a) surprised to see him; and b) fangirling like a mutha. Seriously. I squealed. The I got home and read his Facebook update about writing a romance novel.
This high-concept, hardcore science fiction author was wading into romance? Where could I buy it? But I'm scared, y'all. I'm really scared. Howey is good enough of a writer that, if he's written this romance as beautifully as he writes his scifi, I'm going to feel like the sticky stuff on a hot city sidewalk in July, and just as useless. Damn him.
The ocean is dying. The sea is growing warmer and is gradually rising. Seashells have become so rare that collecting them is now a national obsession. Flawless specimens sell like priceless works of art. Families hunt the tideline in the dark of night with flashlights. Crowds gather on beaches at the lowest of tides, hoping to get lucky.  Supreme among these collectors is Ness Wilde, CEO of Ocean Oil. Ness owns many of the best beaches, and he keeps them to himself. It's his fault the world turned out this way. And I aim to destroy him.  My name is Maya Walsh. You might be familiar with my shelling column in the Times. I was working on a series of pieces about Mr. Wilde, when out of the blue, he called. He says he wants to talk. But I don't think he's going to like what I have to say.
So that's my five.
All done.
Move along.
Oh, who am I kidding? Here's another one that I have to read-right-now-or-I-will-go-insane. I grew up reading Anne Rice, so when she announced that she was bringing Lestat back, I was elated.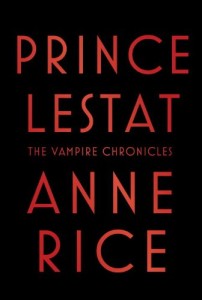 Okay, I am REALLY finished now. I promise. Head on over to see what S. C. Mitchell has on his list. Knowing him, it's bound to add more to my own. That reminds me, I need to read his latest, The Blarmling Dilemma. See? My list is longer already. 😉
See you next week!
Xio