Welcome to another installment of Romance Writer's Weekly where we give you a glimpse behind the curtain of our lives as romance authors. This week, Brenda Margriet (author of the lovely When Time Falls Still) wants to know what we carry in our purses.
This question made me chuckle. If you're hopping over to me from Steven Mitchell's blog, you'll understand why. Never mind the fact that the word purse makes me think of my grandmother for some reason, I can't wait to see what Steven posts. By the way, be sure to check out his brand new release, Daughter of Darkness!
I used to be a backpack girl, and then I switched over to messenger bags. I still have a few of those and I use them when I go to concerts and festivals, etc. It wasn't until about ten years ago that I started carrying (and collecting) purses, or handbags. Almost all of them are black and leather, and mostly small. But I change them as often as the occasion calls for it. I have a lot of errands to run this week, so here is today's handbag.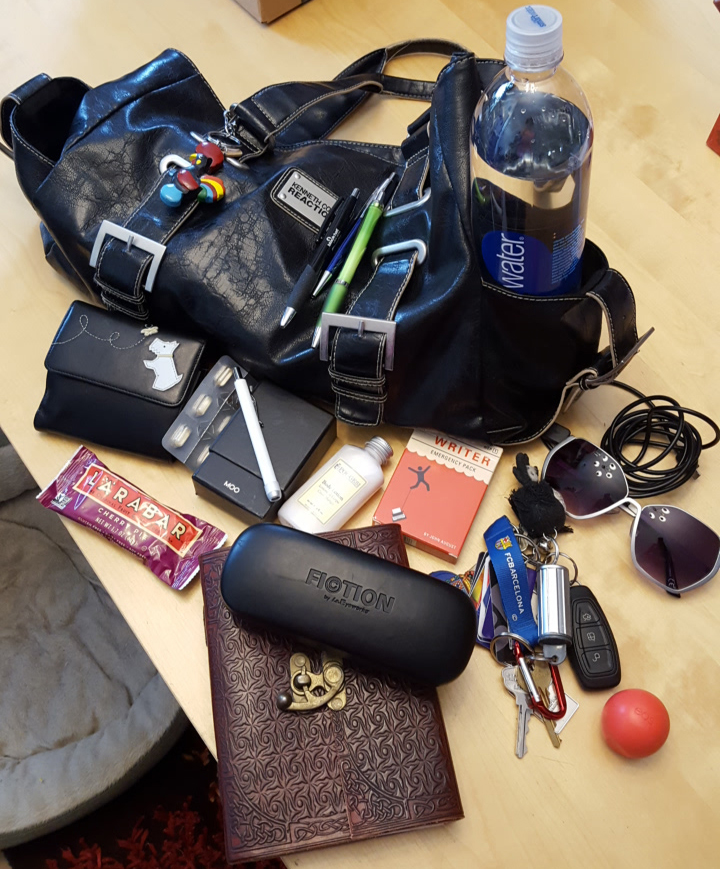 I didn't pull out the receipts, bits of paper, tissues, or detritus that seems to congregate at the bottom of this particular bag, but you get the general idea. It's a nice, sturdy, roomy Kenneth Cole. When I have this one on my person, one of my largest, it tends to house a lot. In this case, we have:
A bottle of Smartwater (I live on this stuff)
Various pens
My wallet (Yes, it's a Radley and the only thing I've ever purchased during the in-flight Duty Free window.)
Some Benadryl (allergies)
A Larabar, because I often forget to eat
My business cards, made by Moo
A stylus for my laptop/smartphone
A small bottle of lotion
One of dozens of notebooks I own (I especially love these old world, leather-bound ones.)
My computer glasses
I just happened to have the Writer Emergency Pack on me when I took this photo
My keys (Mr. X jokes that I have three keychains for every key I have on my ring. I think it's more of a 10:1 ratio.)
A pair of sunglasses (I wonder where the case could be?)
A USB cord (The charger is around here somewhere.)
And one of half a dozen balls of EOS lip balm that I keep about my person
I don't carry this satchel every day. My everyday bag is a much smaller, over-the-shoulder model and usually only holds my wallet, keys, and the charger. And maybe some gum. Which reminds me, I'm out.
So, what does this all tell you about me? Heck if I know, but I'm curious to hear your thoughts. Hop on over to see what the wonderful Leslie Hachtel (author of The Dream Dancer) has in her purse. See you next time!