Holy pumpkin pie, my lovelies! Can you believe it's already November? Time to head to the store and grab all that leftover Halloween candy. Am I right? (Is it just me?)
This week, I welcome the delightful Rebecca Hunter to FoX Friday. I've known Rebecca for a couple of years and I can't believe I haven't introduced you to her before. The holidays arrive early this year, because Rebecca is here with Twelve Nights of Christmas, a lovely little anthology that's guaranteed to get you in the holiday spirit. And it features quite a few FoXes, including Kim Golden, Sarah Hegger, Carrie Elks, and Gemma Brocato. 🙂 Before we learn more about the book, let's learn more about my lovely friend!
Did you always want to be a writer?
For as long as I can remember, I've wanted to write a novel, though I always assumed it would be literary fiction. But now that I started with romance, I'm hooked! I don't think I'll ever go back.
I hope you never do! What writing rituals help to get your mojo flowing so you can write?
I don't have any particular rituals, but I really need to shut off everything else (*ahem* the Internet) to concentrate. I have started dictating my first drafts on my phone, which means I walk around the house or even go for a walk in the neighborhood. That definitely gets my mojo flowing!
Nice. How do you celebrate each book release?
Sigh. This is something I don't do enough. Any suggestions?
Oh, tons. Let's talk, lol. Describe your writing space for us, if you have one.
I actually write in what was meant to be the breakfast nook in our house. It's a cozy little space with no distractions, and (bonus!) the kitchen is right there because…snacks! I have a giant white board in front of my computer, where I write notes about characters or what I want to include in my next newsletter. Oh yeah—and it's a mess!
I have several messy areas I use myself! What flowers would be in your ideal bouquet?
Calla lilies. Just lots of them.
Pretty. 🙂 Finish this sentence: I'm addicted to… fast-paced, super sexy romance novels!! I especially love a hockey player hero. I know, cheesy answer, but it's true.
What was the nicest comment, review, or question you've received from a reader?
"This is the best book I've read all year, and I read a lot." I got this as a personal note about my book, One More Night. The book is intense and very hot, and it's a little experimental, so I just love that it really worked for this reader!
Wow, so awesome. So, what can readers expect from you next?
My next book is coming out on January 1. It's kind of a strange release day, but Harlequin romances always come out on the first of the month. The book is called Playing with Fire, and it's a fast-paced, intense, emotional first love romance.
I can't tell you how much I LOVE Simon and Marianna's story. Simon was from the wrong side of the tracks, but he found his way and left her behind. Marianna was Miami royalty, but she's in a bit of trouble now. Who reluctantly steps in to help her? Yep—Simon.
How cool! Can't wait.
Twelve bestselling and award-winning authors each bring you a sexy night of romance, fun and a little magic. 'Tis the season for falling for the right guy!
**'Tis the season for giving, too!**
20% of the proceeds will be donated to the hunger relief organization, Feeding America.
Winter Wonderland by Rebecca Hunter
Two people stuck in an elevator, snowed in, on an all-night bus trip, locked in a store… Can a magical fruitcake be the special ingredient they're all looking for?
Rebecca was sweet enough to bring an excerpt from A Winter Wonderland! Leave a comment below for a chance to win a digital copy of the anthology!
This scene is the beginning of chapter two of my story in the anthology. Selena and Jace were high school sweethearts and haven't seen each other since graduation, when Selena left two. She's on her way back to her hometown when her car breaks down. Guess who owns the only garage?
***
Jace pulled the hood of his raincoat over his head and climbed out of the truck. The windows of the car were steamed up, and the hail piled on her windshield. He knocked on the driver's side door, and she pushed it open. Bending down, he peered in.
Selena was wrapped in a white raincoat with grey and black designs, hood up. The coat looked expensive and impractical as hell. How fitting.
Big brown eyes with long, dark lashes blinked up at him, and his heart stuttered in his chest.
"J-J-J-J-Jace?" she said, her teeth knocking together. "I didn't mean to call you."
He let out a dry laugh. "Next time, try a different number."
Selena rolled her eyes. "You know what I mean."
Yes, he did. Jace sighed and did another sweep of the car. She was alone.
"Come climb into the truck," he said, a little rougher than he meant to. "It's warmer in there."
She gave a quick nod and stepped out into the rain.
Jace fought images of all those X-rated scenarios as he followed her. Not happening. Eighteen-year-old Selena would have been a different story. But twenty-eight-year-old Selena, in her designer coat? Not a chance in hell.
He led the way to the passenger's side and opened the door, helping her in as water poured over the hood of his raincoat. His gut clenched as her cold hand brushed against his. Damn. She was freezing, and his mind was in the teenage gutter.
He walked around to the driver's side and climbed in, trying hard not to look at her. The engine purred, and he turned up the heaters. But he could let himself get one good look at her, couldn't he? He turned as Selena lifted her hands to the truck's little heating vent, rubbing them together. Wet strands of hair fell in her face, and she pushed them away. Her hair was different.
"Your hair is brown now," he said.
She smiled a little. "Y-y-you're just noticing that now?"
Jace gave a snort. He knew every single inch of this woman. Intimately.
"I mean you don't have those red streaks anymore," he said. He fingered the ends of one of the strands, then let it go.
"Oh, that." She wrinkled her forehead. "I got rid of those in business school."
He studied her more closely. Those red streaks had said a lot about her back in high school, not the woman sitting next to him. He didn't know this woman, not really.
Selena slid closer to the little vents, where streams of warm air poured out. "D-d-d-d-damn, it's cold."
Oh, right. "You should have asked Santa for a new raincoat."
"Not sure how nice I've been this year," she said with a little smile.
He could list a dozen things about her that were nice. And just as many that were naughty. None of which he shouldn't be thinking about right now.
"You're too wet to get warm," he said, frowning. "You need to take off some of your clothes. Jacket and shirt if they're soaked."
She rolled her eyes and gave a little snort of laughter. "Just like old times, right?"
"I didn't mean it that way," he grumbled.
Though, now that she mentioned it, his mind went straight back to that well-worn scenario he liked best. Nope, not going to happen.
Jace rummaged around in the bin behind his seat until he found an emergency blanket. When he turned around, she had shed her fancy shell of a jacket. Her white shirt was soaked, and he could see straight through it to her bra. Which was also bordering on transparent. Shit. He turned away as a rush of want pulsed through him. Just like old times.
"I won't look," he said, pushing the blanket in her direction.
Selena shuffled around for a bit, her soft pants echoing in the little cab, while Jace tried hard not to think about the naked woman next to him. Or the sound of her breaths.
"I'm decent," she said.
When he turned back, the blanket was wrapped tightly around her, but Selena was still shivering.
"So," she said. "Here we are again."
She gave a snort of amusement, but the chatter of her teeth made it sound closer to a hiccup.
"Yep. Here we are." He said softly. "You gonna be okay?"
She nodded.
Damn, she looked so cold. He reached across the seats to rub her arms a little, warm her up, but he stopped. No, it wasn't his place to touch her. Not anymore. But how easily his body was willing to forget that.
It was getting hot on his side of the truck. Jace unzipped the top of his coat and loosened the too-tight collar of his shirt. He had to get out of this little space soon.
"Your car broke down?" he asked.
"Great way to start off the new year, right?" She smiled and let her eyes settle lower, on his tie. "Nice outfit. You usually rescue cars in that?"
"Only when it's a Mercedes."
Selena rolled her eyes, but the corners of her mouth turned up. She tucked a wisp of her hair behind her ear and brushed a drip of water off her face. Goddamn, she was still beautiful.
***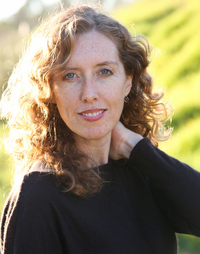 Rebecca Hunter is an award-winning author of sensual, emotional adventures of the heart. Though she earned a Bachelor's in English and a Master's in English Education, most of what she learned about writing romance has come from other sources.
The first book in Rebecca's indie series, Stockholm Diaries, Caroline, won the 2016 National Excellence in Romance Fiction Award in the Contemporary Series category, and she writes about hot, edgy bodyguards in Australia for the new, super-sexy Harlequin DARE line.