Hey folks! I have something a little different for you. My friend Gene Doucette writes one of my favourite characters in literature, Adam the Immortal. Today marks the release of the final book in Adam's trilogy, Immortal at the Edge of the World.
In his very long life, Adam had encountered only one person who seemed to share his longevity: the mysterious red-haired woman. She appeared throughout history, usually from a distance, nearly always vanishing before he could speak to her.
In his last encounter, she actually did vanish—into thin air, right in front of him. The question was how did she do it? To answer, Adam will have to complete a quest he gave up on a thousand years earlier, for an object that may no longer exist.
If he can find it, he might be able to do what the red-haired woman did, and if he can do that, maybe he can find her again and ask her who she is . . . and why she seems to hate him.
"You are being watched. Move your loved ones to safety . . . trust nobody."
But Adam isn't the only one who wants the red-haired woman. There are other forces at work, and after a warning from one of the few men he trusts, Adam realizes how much danger everyone is in. To save his friends and finish his quest he may be forced to bankrupt himself, call in every favor he can, and ultimately trade the one thing he'd never been able to give up before: his life.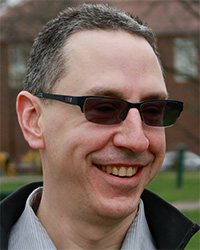 Goodreads * Add to Want To Read List
So Gene, did you always want to be a writer?
Yep. The story goes that when I was about three years old I was asked by a waitress what I wanted to be when I grew up, and I answered "bookmaker". My parents assumed this meant "writer" and not "guy who takes bets on sporting events", and I think they were probably right.
When did you first consider yourself a "writer"?
Probably not long after that story. There's a poem I wrote about snow when I was… I don't even know how old I was… framed on the wall of my mother's house. My writing has improved since, although my handwriting is just about as bad.
Did it take a long time to get your first book published?
That depends on what we're calling my first book. My first novel was never published, and neither was my second novel. My third was Immortal and it took about seven or eight years depending on when I decide to start counting. If we're going by other metrics, I was submitting that first unpublished novel to agents in 1992, so we can start counting there if you'd like me to kill myself.
Do you have a process or routine that you follow when writing?
I mostly just have to make time for it at this point. My routine of late has been to clear one or two days (or a week, if I need it) and spend the entire time in my house going between the bedroom and the living room with the laptop, writing and complaining, and checking the Internet way too often.
What books can we expect from you in the future? Any works in progress?
I've been writing a lot of novellas lately. Between the publication of my last novel (Sapphire Blue, published as G Doucette) in March and the October 2 release of Immortal at the Edge of the World I wrote four novellas and published them for the Kindle. Three of those were about Adam from the Immortal books and were, appropriately enough, called The Immortal Chronicles. (The fourth was another step outside the genre for me, a straight-up thriller called Surviving Hector.) I've found the Chronicles are an excellent way to expand Adam's world and to bring in new readers. So I plan to write more of those and hope to have a Christmas story out by December. I'm also mostly done with an erotic story for G Doucette that will come out in November. In January, I expect to publish the first three Chronicle shorts as a collected volume with a fourth piece, so the novellas can be released in print for the first time. I'm also working on a high concept multiple novella release called M Pallas. Beyond all of that I hope to start work on a new trilogy for Adam.
What genre would you write? Do you stick with this religiously?
My M Pallas concept will cover multiple genres, and I never get tired of finding out if I can write something, so I'll probably never stick to any one anything.
Do you have a favourite book out of the ones that you have written?
Right now my favorite book is Immortal at the Edge of the World. It was the hardest one to write and has the biggest payout, I think.
Do you get feedback from anybody close to you before you submit them?
I don't use beta readers very much. For Adam's stories, not at all, because by now I'm pretty solid with his voice and know what it will take to get it to where it should be. For the things I'd call experimental I might try and get feedback. Like the erotica.
How do you approach reviews? Have you had many negative ones? Do you read them?
I have very few negative reviews. Almost none for the Adam stories. And I read every one of them. It's probably not healthy.
Tell me about the graphic man you use on the cover of all your Immortal books?
My original concept for my very first Immortal cover was to put something that was clearly cave art in a modern setting. I wanted a bus stop with a guy at the bus stop who was just waiting for the bus, and he was like anybody else—briefcase and so on—except he was being represented by cave art. We never could quite get the whole thing to work, though. But the man on all the covers is an altered version of the example I sent to the artist, which originated—a few iterations ago—as a drawing on the walls of a cave in Lascaux.
Immortal at the Edge of the World is available from: Amazon, Kobo, Barnes and Noble, and TWCS PH. You can connect with Gene on Twitter,  Facebook, his Website or on Tumblr, if you're feeling brave. =)