Hello, my lovelies!
One year ago, I put together an anthology to celebrate Pride month and to raise money for a worthy LGBT+ organization. I had such a great group of authors, who all donated amazing stories. It was such a wonderful experience that I decided to do it again!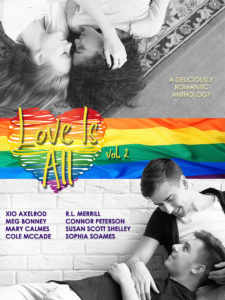 LOVE IS ALL – VOLUME TWO is out in the world, and it is 99 cents for a very limited time!
The anthology includes novellas and short stories from USA Today Bestselling and award-winning authors, including Meg Bonney, Susan Scott Shelley, R.L. Merrill, Connor Peterson, Sophia Soames, Cole McCade, and Mary Calmes, plus an absolutely stunning foreword by Roan Parrish .
My contribution, When Frankie Meets Johnny, is a peek into the mind of a character that I've been living with for a couple of years, now. And, yes, I will be expanding the story later on but I hope you fall in love with Frankie as I have. His voice is a departure for me, to be certain.
Proceeds from this year's anthology will be donated to an LGBT community center in Philadelphia. [Read more…] about Love Is All is here, and it's only 99 cents (for now)!